Louis Smith hails Team GB squad depth
Last updated on .From the section Gymnastics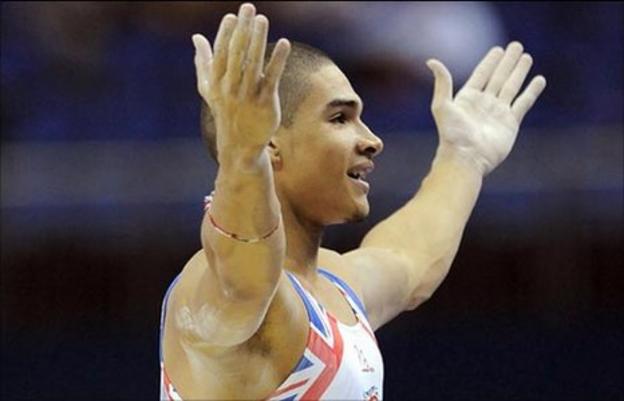 Olympic bronze medal-winning gymnast Louis Smith believes Great Britain's squad now has real strength in depth.
The team have travelled to the World Championships in Tokyo with the aim of qualifying a full men's side for London 2012.
Smith told BBC Radio Cambridgeshire: "All it took was for one of us to stand on the podium and show we can do it.
"Now it's filtering down, everyone is starting to believe and we're heading in the right direction."
Great Britain need a top-eight finish in order to automatically qualify a full team for next summer's Olympics, although there will be a further opportunity to qualify at a test event in London next year.
Smith became the first British male gymnast to win an Olympic medal in over 80 years by securing bronze on the pommel horse in Beijing.
The 22-year-old is joined by Huntingdon club mates Daniel Keatings and the up-and-coming Sam Oldham in the team for Japan.
"Sam is a perfect example of how we're developing as a team because he's young, but really promising.
"It takes the pressure off the likes of me as it's clear our team is not a one-man band."
Smith's his highly technical routine, if executed perfectly, should be enough to secure him a gold in Tokyo but, after falling from the horse at the European Championships in the spring, he is well aware of the risks.
"It's the hardest routine in the world and it's what hopefully will set me apart and help me stand out," he said.
"You have to stay focused throughout and I've seen it so many times where you relax too much and fall off."
Meanwhile, Corby's Daniel Keatings has been working hard to overcome a serious knee injury, which he suffered in training last year.
He returned to competitive action over the summer, but the World Championships are his first major test.
"I was a bit nervous on my return to competing, but I've think that's now out of the way," Keatings said.
The 21-year-old beat Smith to pommel horse gold at the 2010 European Championships in Birmingham and has admitted it has been frustrating to be stuck on the sidelines.
"I haven't enjoyed sitting on the sidelines, but hopefully it's made me stronger and I'm really keen to prove I can still do it".