London 2012: Dan Keatings fighting nerves ahead of gymnastics qualifier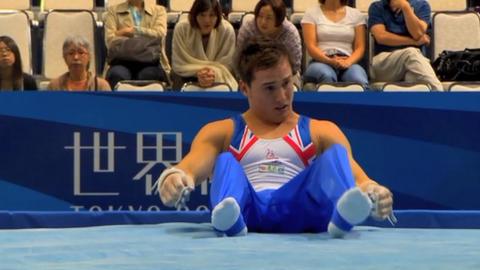 Gymnast Dan Keatings admits the British men's team are feeling "nerves" as they approach their last chance to qualify a full team for London 2012.
GB failed to qualify at the 2011 World Championships so must now finish in the top four at the Olympic test event, which begins in London on Tuesday.
"Obviously there are nerves, it's a really important event," said Keatings.
"But we're confident, our training has been going well and we're looking forward to getting it done."
The team comprises Louis Smith, Kristian Thomas, Daniel Purvis, Daniel Keatings, Ruslan Panteleymonov, Max Whitlock and reserve Sam Hunter.
They missed their first chance to qualify for London 2012 at the World Championships in Tokyo last October, finishing 10th in team qualifying when the top eight all secured berths for a full five-man squad at the Games.
"It would be terrible [not to qualify]. We're positive about going into this competition as a team who came together after that result at the World Championships," said Keatings, who suffered a dramatic fall on the high bar in Tokyo as the British performance unravelled.
"We're looking forward to going into the test event and putting in the result we should have done at the Worlds. A couple of months ago we had a bit of a downer but we're on the rise now."
Tuesday is the start of the Olympic test event and the key day for Britain's men, who will compete in the evening session from 1900 GMT. There are eight teams in total, of which the top four will earn the right to send full teams to London 2012.
Smith, who became the first British gymnast for a century to win an individual Olympic medal when he took pommel horse bronze at Beijing 2008, acknowledged the pressure facing the team.
"With success comes expectation and added pressure. I'm used to that now. Some of the guys are just starting to feel what that's like. All we can do is try to prepare the best we can.
"One of the things we're good at is that 'yes we can' attitude. I think that's why it took us a bit by surprise when we didn't qualify the first time, but the belief is certainly there."
Britain are expected to easily make the top four at the test event but, should they fail, only one male gymnast would represent GB at the Games in six months' time.
Olympic performance director Tim Jones said: "With the amount of experience we are able to call upon, we remain confident and are backing ourselves to produce a reliable and professional performance.
"This will give us the best chance of qualifying a full team for the 2012 Olympic Games."
The following week, the British rhythmic gymnastics team must hit a benchmark score in order to secure a host country place at the Games.
Georgina Cassar, Jade Faulkner, Francesca Fox, Lynne Hutchison, Louisa Pouli and Rachel Smith make up the squad attempting to reach that target in the team event.
In individual rhythmic gymnastics, for which Britain have already guaranteed an Olympic place, Francesca Jones will compete at the test event.
Performance director Steve Green said: "We have the possibility of making history if the group achieves their target score of 45.223 over the two routines. If the benchmark score is achieved a nomination will be submitted to the BOA to accept a host country place.
"For the individual place, the test event will act as a warm-up to experience the enormity of a home Olympic Games in readiness for the real thing at Wembley in August. This is an incredibly exciting opportunity for rhythmic gymnastics to profile itself at the biggest show on earth."
The test event will take place from 10-18 January at the North Greenwich Arena, with fellow Britons Kat Driscoll (trampoline) and Jocelyn Hunt and Rebecca Tunney (women's artistic) also in action.
Britain's artistic women qualified a full team for London 2012 in Tokyo three months ago, and British Gymnastics has decided to send youngsters Hunt and Tunney - both of whom have an outside chance of reaching the Olympic squad later this year - as representatives this week.