London 2012: Sam Oldham puts team success ahead of personal glory
Last updated on .From the section Olympics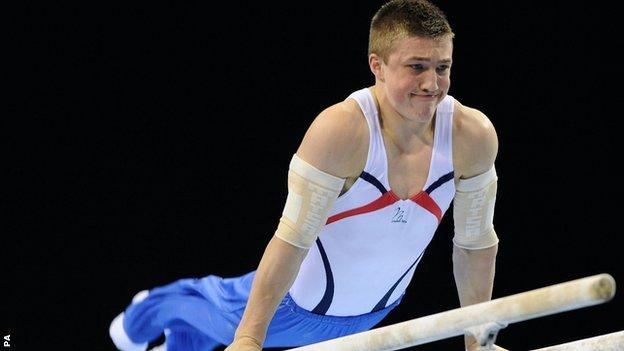 Teenage gymnast Sam Oldham plans to put Team GB success ahead of thoughts of individual glory at London 2012.
The 19-year-old was chosen ahead of the more experienced Daniel Keatings after finishing second at the recent British Artistic Gymnastics Championships.
"I'm just going to try and hit my routines clean," the 19-year-old told BBC Radio Cambridgeshire.
"If you think too much individually, you put too much pressure on yourself and things can start to fall apart."
Oldham, from Nottingham, has been a member of the Huntingdon Gymnastics Club since 2007 and his clubmates include Beijing pommel horse bronze medallist Louis Smith and Keatings, the team's official reserve.
And he will have both alongside him as Britain try reach the men's team final.
"Louis has got an incredible amount of experience - the medals he's won over the last six, seven, eight years are just incredible," Oldham added.
"With him getting that medal in Beijing, I think that really helped British gymnastics as a whole.
"It give us the belief that if Louis can do it, we can do it.
"I'll definitely be taking advice from Louis, and also from Dan because he's been in that situation as well."
Oldham was a member of the team at the World and European championships in 2011, but subsequently suffered injury problems which put his chances of Olympics selection in doubt.
"I got a stress fracture of my collarbone and tore my pec [pectoral muscle] and I was out for two months till the middle of December," he continued.
"For me, that was crushing. I train pretty hard all the time - I'm first in the gym, last out of the gym - so going into this year, that was really difficult to deal with mentally.
"I knew it was going to be a long road back, but I got my head down and carried on and just hoped that when the time came I could produce the results and luckily for me I had the comp of my life at the British Championships."