Sportscotland dismiss claims from Scottish Gymnastics Association
Last updated on .From the section Gymnastics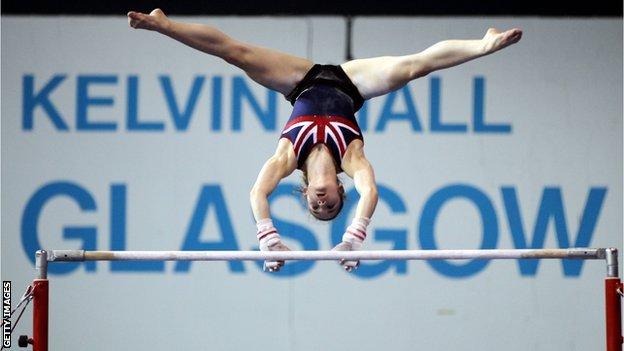 Sportscotland - the body responsible for developing Scottish sport - is dismissing a call for its chief executive Stewart Harris to resign.
The Scottish Gymnastics Association want Harris to step down in an ongoing spat between the two bodies.
SGA also called for a government enquiry into sportscotland.
Sportscotland had withdrawn funding from SGA pending the instalment of a new board, having raised concerns about how the gymnastics body is run.
And it wants "new leadership" in place after the SGA's upcoming annual general meeting.
Sportscotland's head of media Will McLeish described the move as a "desperate attempt to divert attention away from the SGA's own failings".
He added: "Sportscotland has safeguarded all the jobs at the Scottish Gymnastics Association, including performance and development roles, to ensure all the preparations for the Glasgow 2014 Commonwealth Games remain unaffected."
An earlier statetment from Sportscotland said: "The SGA have had five directors resign over the last year, have very high levels of staff turnover, face four employment tribunals, and have a chief executive on long-term sickness absence.
"The SGA have received significant additional investment over the past three years yet there are now fewer competing gymnasts in Scotland than five years ago.
"Investment is not an entitlement. Therefore, decisions were taken to suspend investment for the SGA until their AGM to be held on 25 November, which will see the current board resign and a new leadership installed.
"In the interim, sportscotland has provided SGA with circa £60,000 to safeguard jobs and offered specialist help in managing the long-term sickness absence of the CEO, and we are aware that SGA have a positive financial reserve position."
The SGA says it has "grave concerns regarding lack of due diligence, duty of care and a failure of sportscotland to communicate with the board and executive of Scotland's gymnastics governing body".
And it added: "The SGA has had two of its best years ever from 2010 to 2012 where membership levels have risen by 20 per cent, medal successes are up, with nine medals - four at gold level, achieved in the recent Malar Cup in Sweden, and recent events have been sold out.
"Scottish Gymnastics was also positively reviewed in a recent Deloitte's 'Fit for Purpose' governance audit which was commissioned by sportscotland.
"However, this top performing sporting body has been brought to the brink of financial collapse as a result of sportscotland withholding essential funding since 1 July.
"The withdrawal of the funding from sportscotland has put 24 jobs at risk and also risks the future performance of Scotland's most promising young gymnasts in advance of the 2014 Commonwealth Games."
A sportscotland spokesman said the organisation welcomed the forthcoming resignations and stated that it "will actively seek to redevelop our relationship with the SGA when the new board has been named".
He added: "As far as we are concerned, the comments from the SGA which accuse sportscotland of impropriety are unsubstantiated and inaccurate.
"We see this as one last parting shot from specific individuals."