Jennifer Pinches: Gymnast "lived a fantasy life" in 2012
By Phil Cartwright
BBC North West Sport
Last updated on .From the section Gymnastics
Gymnast Jennifer Pinches will not forget 2012 in a hurry. While it began and will end with studying for her A-levels, quite a lot has happened in between.
Competing at her home Olympics was undoubtedly the highlight.
Throw in the chance to mix with the great and the good, and a couple of months volunteering in South America - it is not exactly what your average teenager experiences in the space of 12 months.
"At the start of this year, if you had said I would be doing all of those things, it would sound like a fantasy life," said the 18-year-old from Whaley Bridge in Derbyshire.
"Maybe it's time to settle down a bit, do a little studying and go home to tidy my room - things I'm supposed to be doing at this age."
Great Britain excelled at the North Greenwich Arena during London 2012 - a return of a silver and three bronze medals was more than adequate for Team GB's gymnasts.
The women's team, up against powerhouse nations such as the United States, Russia, China and Romania, knew that taking a place on the podium would be a tall order.
But Pinches, Beth Tweddle, Rebecca Tunney, Imogen Cairns and Hannah Whelan could be satisfied in the knowledge that their was the best achieved by any British female team for 80 years.
"Arriving at the Olympic village was just amazing - suddenly realising that you were there and you'd made it," continued Pinches.
"My next really strong memory is walking out into the arena and just hearing how loud the crowd was. Finishing my floor routine, when I got my personal best on the day of the team final was incredible as well because I knew that I'd done the best that I could.
"After that, we just went to try and meet people. We met celebrities all the time.
"Kate Middleton came to watch the pommel final with us, when Louis Smith won silver and Max Whitlock won bronze. I met her three times, and on the third time she tapped me on the shoulder and said 'hello' because I'd met her twice before, which was really nice."
And with that, her gymnastics career was over. Her retirement from the sport at the age of 18 may come as a surprise to some, but what else was there left to achieve after competing in a home Olympics?
"I had a good idea that I would retire," said Pinches, who trained at the City of Liverpool Gymnastics Club. "I want to finish my A-levels and take on new challenges.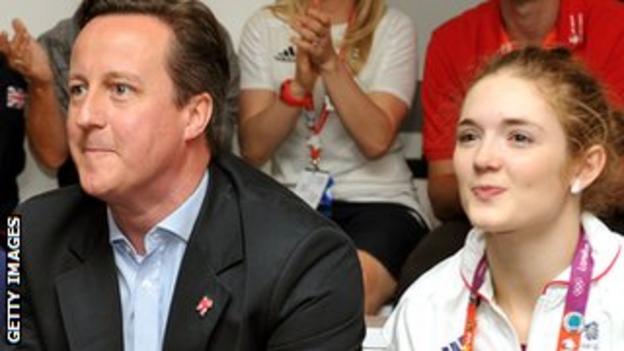 "I'll always cherish my memories of gymnastics and I'm so grateful to everyone that helped me realise my dream of going to the Olympic Games and doing really well as well.
"There's no better high to go out on than a home Olympic Games. It's the best thing you can achieve in your sport. I've done that and now I'm moving on."
Part of that "moving on" process was to spend two months doing voluntary work in Ecuador - another "once-in-a-lifetime" experience.
"I was involved in loads of different projects, such as building a nursery so that the women could work," she said.
"We taught English in schools, built a playground, worked in a rescue aquarium that saved endangered species - all of these exciting projects all over Ecuador. It was another once-in-a-lifetime opportunity that I wanted to take."
And now it is back to school for Pinches, who is planning to go to university next summer. Whatever 2013 brings, it will be difficult to imagine anything will surpass the experience of London 2012.
"I'm sure everyone will have a different experience of their Olympic Games," added Pinches. "All I know is that I really enjoyed it and I wouldn't have wanted it any other way."