Gymnast Lisa Mason to end 13-year retirement
Last updated on .From the section Gymnastics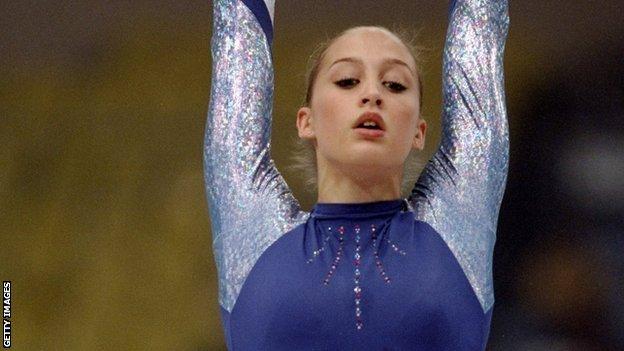 Former British Olympic gymnast Lisa Mason is to return to the sport 13 years after retiring.
Huntingdon-based Mason, who turns 31 in February, won Commonwealth gold and competed at Sydney 2000 before quitting gymnastics in the same year.
But now she is hoping to qualify for the Glasgow 2014 Commonwealth Games.
"It's going all right so far," she told BBC Look East. "I know it's a little bit crazy. Not a lot of people can do it, but if you can, why not?"
She joked: "I think getting back into a leotard scares me more than doing a full twist on the beam."
Mason's first competition back will be the English Championships in Kent this weekend.
In her previous gymnastics career, she finished 23rd in the all-around final at the Olympics in Australia, won two national titles and took gold on the beam and won team silver at the 1998 Commonwealth Games.
Since retiring she has worked as a coach and a choreographer and became a mother to Yalarna Elena, who is now seven.
She realised her desire to return to gymnastics during London 2012.
"I did a gala at the Olympics, back out on the floor," she said.
"I got a hunger for it and I realised I was still capable of doing the skills. My only issue was getting the fitness up.
"I've got nothing to lose. I'm enjoying it. I'm loving training again. I'm older and wiser. I'm a mum now so I'm not going out partying - I'm doing it because I want to do it and because I have faith that I can."
While she aims to be at Glasgow in 2014, she is remaining cautious about her chances of making the team for Rio 2016.
"Ideally I would make a Great Britain squad again. I would love to compete at another Commonwealth Games," she said.
"We have some fantastic youngsters coming up so I think for Rio we will have one of the strongest teams we've ever had. So the Commonwealths are my aim."
Huntingdon Gym coach Paul Hall, who looks after London 2012 silver medallist Louis Smith, believes her aims are realistic.
"I can only think of a handful of gymnasts across the world that have competed into their 30s. She's in a minority," he said.
"Given the opposition at the moment she's got every chance of qualifying for the Commonwealth Games. If she trains well and can stave off injury she could possibly win a medal."