Olympian Whitlock leads GB gymnasts at Moscow Europeans
By Nick Hope
BBC Olympic sports reporter
Last updated on .From the section Gymnastics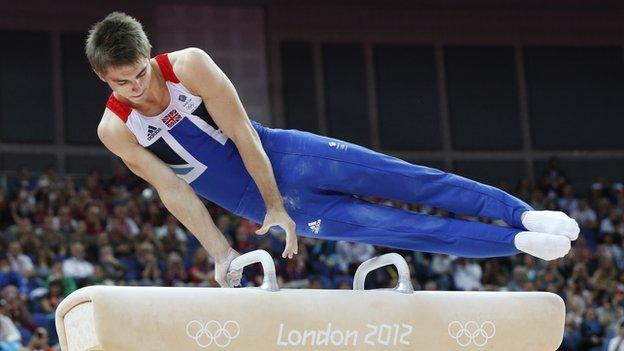 Double Olympic bronze medallist Max Whitlock hopes a 10-strong GB team can build on their best-ever Olympics at this week's European Championships.
British gymnasts won four medals in London and despite the absence of Louis Smith and Beth Tweddle in Moscow their is cause for optimism in the camp.
Fifteen-year-old Gabby Jupp will make her major international debut whilst Daniel Keatings returns after injury.
"London was amazing but we're building now towards Rio 2016," said Whitlock.
"There is [a lot of quality] we've really got a strong team for the individual team this year and hopefully we can make some good individual finals."
Whitlock, 20, was part of the GB men's squad including Smith, Daniel Purvis, Kristian Thomas and Sam Oldham which claimed an historic team bronze in London, but of even greater surprise was his individual honour on the pommel horse.
"It was amazing and it still gives me shivers even if I watch the routine now," the gymnast told BBC Sport.
"I scraped the final at the Olympics, coming eighth after a slight mistake in the qualifications and I just had to really go for it and I was so happy to come out there with that bronze."
Whitlock continued: "There is slightly more pressure now and dealing with a little more expectation is something I have to get used to as we build towards my main aim of Rio - but the Europeans are an important stepping stone."
In addition to Whitlock's promise, Purvis heads into the Moscow Euros in buoyant mood having claimed World Cup bronze in Japan earlier this month - whilst Keatings is determined to end two years of injury hell hell with a podium finish.
"It's awesome to be back in a squad going out to an international competition again," said Keatings, who believes he is now over the "crushing blow" of missing London 2012.
My [pommel horse] routine has been going really well recently so I'd love to go there and make a final and maybe even push for a medal.
Keatings added: "It's the first time I've had a chance to try and re-gain my European crown that I got in 2010 so that has to be a target."
Purvis endured a difficult British Championships and was fortunate that Thomas suffered a pre-European trials knee injury, enabling him to edge out Keatings and Oldham for the second all-around berth.
"My confidence did take a bit of a knock after the British, but I'm feeling better now and after winning a bronze at the Euros last time I've got to be looking towards at least matching that," said the London men's team medallist.
With Olympian Jennifer Pinches having retired, Hannah Whelan out of form, Rebecca Tunney injured - and 'Dancing on Ice' champion Tweddle as well as Imogen Cairns yet to decide on their future - Great Britain will field a women's line-up deprived of any London 2012 gymnasts.
They will have experience in the form of Beijing Olympian Becky Downie who is looking to re-establish herself in the squad, but much of the attention will be on teenager Jupp.
She won bronze at the European juniors last year and dazzled at last month's British Championships to secure her place in the all-around competition alongside fellow senior debutant Charlie Fellows.
"I've been surprised by how many good competitions I've had," admitted Jupp, who also won two World Cup medals in Doha earlier this year.
"I'm really excited to go for the all-around because I do like competing in all four and if I go clean and do a good qualifications I think I can make the final, but I just want to go clean and enjoy the experience."
The Moscow European Championships are the GB team's first major event since London 2012, but the squad's main focus for this year will be on the World Championships which begin at the end of September in Antwerp, Belgium.