Great Britain's Max Whitlock wins European gymnastics silver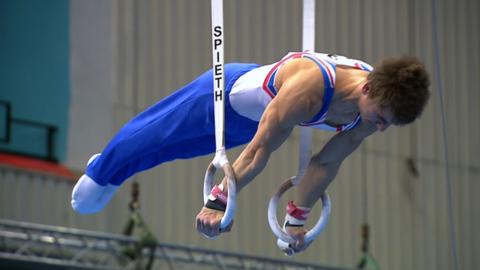 European Gymnastics Championships
Venue:

Moscow, Russia

Date:

17-22 April 2013

Schedule:

17 April - men's qualification; 18 April - women's qualification; 19 April - men's & women's all-around; 20-21 April - men's & women's individual finals

Coverage:

Live coverage of all-around finals on Friday 19, 1pm-4.30pm (BST), BBC 2; Saturday 10:30am-2pm (BST) Red Button and online only; Sunday 1pm-2.30pm (BST) BBC Two, plus online, on the BBC Sport website, mobile and the BBC Sport app, and Connected TV.
Double Olympic bronze medallist Max Whitlock secured his first senior European medal with a silver in the all-around competition in Russia.
Whitlock, 20, who attained the highest score in qualifying for the final, made a slow start on the vault in Moscow.
Although he impressively fought back into contention, he finished second on 89.106. Russia's David Belyaskiy took gold with 89.799 while Oleg Verniaiev of Ukraine had to settle for bronze.
Briton Daniel Purvis finished fifth.
"My aim was to go out there and do a really clean routine, hopefully similar to the qualification rounds, and I did that so I'm really happy with a silver medal," Whitlock told BBC Sport.
In the women's competition, 16-year-old Ruby Harrold became the first British woman ever to record a top-10 finish in a European all-around final, finishing eighth with a total of 54.633.
"It feels absolutely fantastic," said the teenager, who will contest individual beam and uneven bars finals over the weekend.
"I came to the Europeans aiming for the bars final, so to finish eighth in all-around is brilliant. I'm so pretty proud of what I have achieved."
Her team-mate Charlie Fellows, 16, finished strongly on the vault to place 18th with 51.199 points.
Whitlock's silver equalled the previous best-ever British European all-around finish, which was achieved by Daniel Keatings back at the 2009 Euros in Milan.
The Huntington, Cambridgeshire-based Whitlock was part of the GB men's squad which won team bronze in London and although he made a slow start on the vault in Moscow he gradually climbed his way up the leaderboard.
After competing on three pieces of apparatus the 20-year-old was in fourth place.
Strong performances on his favoured floor and pommel horse routines followed, moving Whitlock into the silver medal position heading into the final round.
A combination of a solid display on the rings and Verniaiev's slip in his pommel horse routine ensured silver for the Briton.
"I'm aiming for a bit higher than that in the future, but six clean routines was my aim and for me to go into [the final] in first place shows I have potential [to win]," said Whitlock, who won a pair of bronze medals at London 2012 in the pommel horse and men's team competition.
"After the Olympics I wanted to prove myself [in the] all-around and it was really good to come out with a medal I was aiming for."
Whitlock will return for the individual floor and pommel horse finals on Saturday.
"I'm really looking forward to those finals and I think this has taken a bit of pressure off me," he said.
Purvis, who was third in 2011, was pleased to improve on Wednesday's disappointing qualifying performance, securing significantly higher scores in three of the six disciplines to finish with a score of 86.732, little more than a point shy of the podium places.
"Everyone in the top three is nailing routines like Max [Whitlock] who is so consistent," Purvis told BBC Sport.
"With my own performance I'm not quite as fit as I want to be, but at the same time, it is the first Euros of a new cycle so I should be reasonably happy."
British Gymnastics have confirmed that 15-year-old Gabby Jupp, who had qualified for Sunday's beam final, will take no further part in the event after injuring her left knee during Thursday's qualifiers.