Great Britain's Sam Oldham wins high bar silver medal in Russia
By Nick Hope
BBC Olympic sports reporter in Moscow
Last updated on .From the section Gymnastics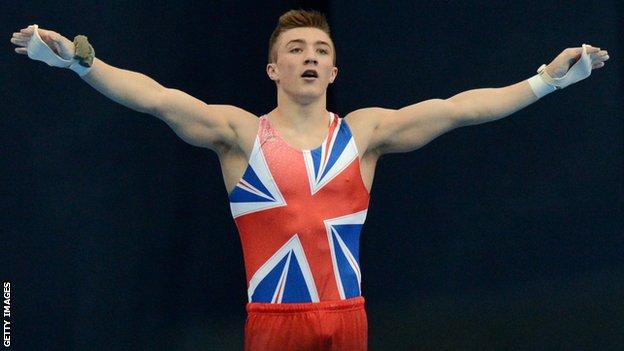 Great Britain rounded off their best-ever showing at the European Gymnastics Championships with Sam Oldham winning silver in Sunday's high bar final.
The 20-year-old scored 15.133 to finish second behind Russia's Emin Garibov (15.433) and complete GB's five-medal haul in Moscow.
Max Whitlock led the way with a gold, silver and bronze while Dan Keatings also won a gold medal.
"The first high bar medal for Britain, it's amazing," Oldham told BBC Sport.
"I knew on landing that I'd done a good routine but it's not until you see your name on the scoreboard you believe it."
The Nottingham-based gymnast performed three big release and catch moves and dismounted with only the smallest step forward and celebrated with a knowing fist-pump towards the crowd as he pushed Bulgarian Aliaksandr Tsarevich into third.
Ashley Watson was the team's other medal hope in the final but the 20-year-old fell during his routine and finished in last place with 12.833, while Ruby Harrold finished sixth in the beam final.
Oldham, who was part of the history-making GB men's squad who won team bronze at the London Olympics, had also finished fifth in Saturday's floor final, with Whitlock taking gold to become GB's first-ever European champion at the event.
"I'm not going to lie, Saturday was really difficult because really I should have taken a medal [on the floor] so I was pretty disappointed," Oldham continued.
"I did things a little differently, I didn't really watch the other guys but I was aware there were a lot of mistakes and that made me a bit more nervous.
"I'm so pleased to have my own senior medal now and to have that under my belt is great for the future."
Whitlock's historic success completed a personal three-medal haul after in the all-around event and bronze in the pommel horse.
GB's other medal came courtesy of Keatings's gold in the pommel horse.
Head coach Eddie Van Hoof told BBC Sport: "I'm over the moon and [this is] above our expectations.
"It's the first major competition of the Olympic cycle so it was a good measure of where we're at moving on from London and we've really set the benchmark for the campaign ahead."
Many of the British squad will now take a short break from the sport before returning to training in the coming months as they build up to the World Championships which begin in September in Antwerp, Belgium.