Louis Smith apprehensive of Rio 2016 commitment
Last updated on .From the section Gymnastics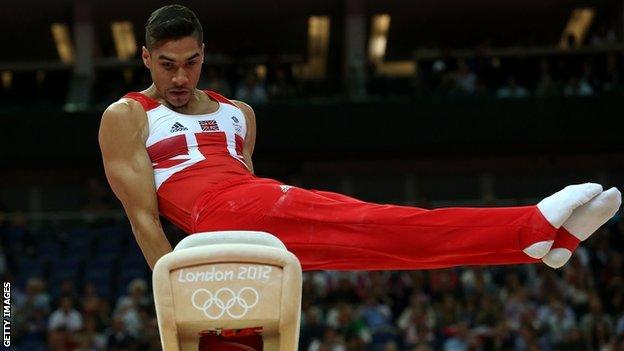 Three-time Olympic medallist Louis Smith has said he will not go to Rio 2016 "just to please everyone else".
The 24-year-old gymnast has not competed since
"I don't want to take the fun out of what I've done and what I've achieved," he told BBC Radio Cambridgeshire.
"To go to the Olympic Games to please the public as opposed to what I want - I would not be in it for the right reasons," he added.
Peterborough's Smith has focused on opportunities away from gymnastics since London 2012, most notably appearing in the BBC's Strictly Come Dancing, which he won, releasing a book and designing a clothing range.
He shot to prominence when he became the first British man to win an Olympic gymnastics medal in 100 years when he won pommel horse bronze at Beijing 2008.
And after following that up with team bronze and his silver medal in London, the prospect of a third Games appearance remains a long way off.
"If I want to go to the Olympics and I get the bug and I want to compete then I'll do that," he said.
"But I don't want to feel like I'm doing it just to please everyone else."
Smith's absence has opened the way for emerging talent, such as Max Whitlock, who has followed up pommel bronze in London with three medals at including gold on the floor
And Smith's Huntingdon Gym team-mate Dan Keatings has enjoyed a resurgence, winning European gold on the pommel.
"I was able to watch the European Championships and commentate on it and it's nice to see different gymnasts winning medals," said Smith.