Beth Tweddle: It's time to swap somersaults for skydives
By Karen Fazackerley
BBC Sport
Last updated on .From the section Gymnastics
After 20 years flying high in the world of gymnastics, newly retired British Olympic star Beth Tweddle's search for excitement continues.
Top of her to-do list includes taking a trip on the world's longest zip-wire - and not one, but two skydives.
"I went wing-walking two weeks after the Games," she recalls. "I've done indoor skydiving, I'm also going on Europe's longest zip-wire in three weeks' time.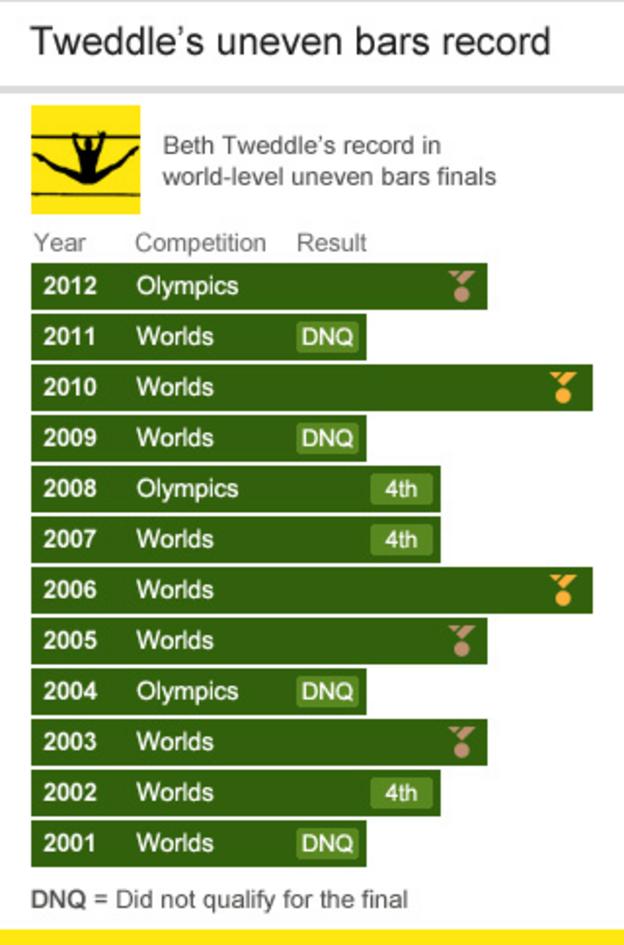 "Next year I want to do two sky dives for charity. I just want to use my name to help others."
The most successful gymnast Great Britain has produced - with a medal haul of more than 20 golds in major championships - hung up her leotard for the last time on Tuesday, announcing her retirement a year to the day she won her treasured bronze medal at London 2012.
"London 2012 is always going to have a special place in my heart. It was the one thing that took me so long to achieve, I'd achieved everything else and last year everyone knew that it was my one last shot and finally I achieved it," said Tweddle.
The 28-year-old has not competed since claiming her first Olympic podium finish on the uneven bars - her participation in London 2012 was in major doubt after she had surgery on her knee just 100 days prior to the start of the Games.
"Ten years ago that would have put me out for six months," she said. "Now as soon as you pick up the smallest injury or niggle they are on it, they are checking it. They are the people, those medical staff, that got me ready for those Games."
Born in South Africa, but brought up in Nantwich, Cheshire, Tweddle entered her first major global event in 2001, aged 16.
Her personal medal haul began when she was 17 at the 2002 Commonwealth Games, where she collected a gold and two silvers, but it was not until four years later that she picked up her first gold medal at the World Championships. To this day, that moment in Denmark when she came first in the uneven bars remains a personal highlight for the 28-year-old.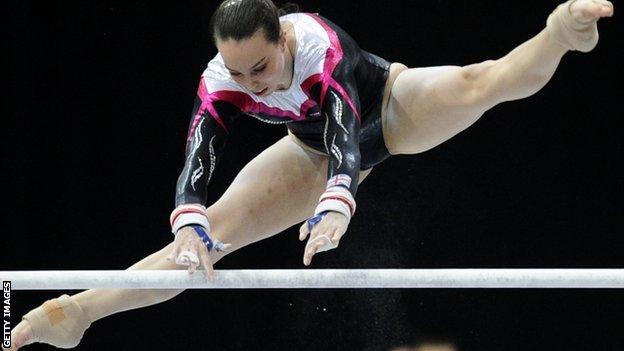 "I'd always won medals at world level but people had always said your time will come, you'll be a world champion and you go 'yeah, yeah, whatever' but actually winning that world title really made me realise I can be up there with the best, I can do it," Tweddle said.
Throughout the next six years she went on to claim three world titles, six European crowns and seven national titles, leading to British Olympic Association chairman Lord Coe to say "she is an inspiration and a role model for a generation."
Tweddle remains one of only two non-teenagers to win gold medals in the World Championships since 2006.
With the Rio Olympics in 2016 and the Commonwealth Games in Glasgow in less than one year's time, one thing that Tweddle - who finished third in the BBC Sport Personality of the Year in 2006 - is sure about is that her gymnastics future has already been decided.
When asked whether she had any thoughts on putting retirement on hold, she said: "Not a chance, not for Rio. The only thing was the Commonwealth Games but the younger kids can have a go at that.
"A lot of people asked me after Beijing had I won a medal there would I have carried on to London? You just never know. I say that my body wouldn't have been able to cope another four years but then had I not achieved that medal in London who knows, that's luckily a question we don't have to answer."
The idol to a generation of gymnastics fans ends her career with three world titles to her name, two on her favourite apparatus - the uneven bars - and one on the floor. Her world titles broke new ground for British Gymnastics but Tweddle remains coy when asked about her impact on the sport.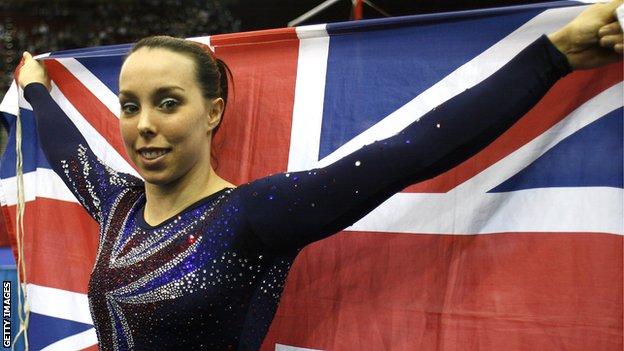 "I didn't see myself as any different," she concludes. "The girls I was training with were doing the same as me and there must have been just that one thing in me that took me that one step higher.
"I guess now that I've retired I'll watch the competitions and I'll be that step away from it and I'll realise just how much I have done for the sport."
Tweddle follows in the footsteps of cyclists Victoria Pendleton and Sir Chris Hoy and swimmer Rebecca Adlington in deciding to end her sporting career after London 2012.
"I didn't want to be remembered as someone who was at the top of their game and then the results dropped," Tweddle said.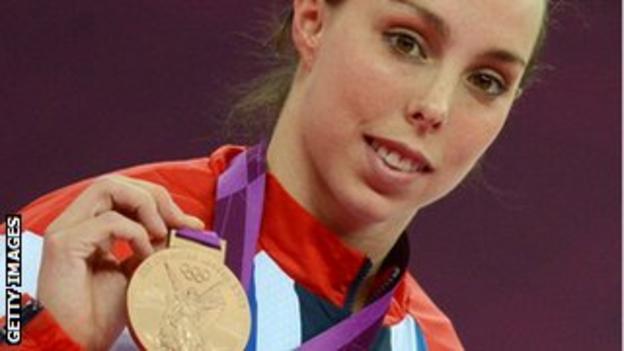 "I've had to let go of that one thing that has always been stable in my life."
"To say I'm not doing it anymore is a big thing but I'll never walk away from gymnastics, it's been too big a part of my life and I still will always have a love for the sport."
Tweddle now begins the next stage of her career, hoping to inspire a new generation of British gymnasts to follow in her footsteps through her newly-founded Beth Tweddle Academy.
"Gymnastics has given me so many opportunities and I just want to give kids the introduction into gymnastics, they might love it or hate it but at least they've tried it.
"I tried a lot of different sports before I found gymnastics and if I can just give them that first go at least I'm doing my little bit for the legacy."