Luke Carson hits out after funding cut by Sport NI
Last updated on .From the section Gymnastics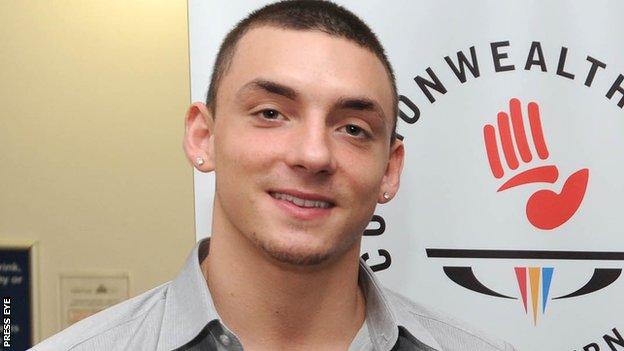 Luke Carson believes a cut in funding by Sport Northern Ireland could cost him the chance of competing in next year's Commonwealth Games.
Sport NI said that the Lisburn man "did not meet the agreed minimal performance standard" to be eligible for funding.
However, Carson argues that he was unable to meet targets as he was recovering from a serious leg fracture.
"I've exhausted my resources - it's going to come to the point where I have to finish," said Carson.
The Irish champion, who is based in Cambridge, required surgery after sustaining the injury in 2011.
He had a bone graft and tendon reconstruction while four screws and a titanium plated were drilled into his tibia.
Carson was unable to get out of bed for four weeks and did not return to the gym for four months.
However, he has made a successful comeback, qualifying for the World Championships this autumn and the Commonwealth Games in Glasgow.
"They (Sport NI) didn't seem interested as to why I couldn't hit the key point indicators, it was just 'no, you haven't hit it, see you later," Carson added.
"I stated over and over that I was injured - it was not because I was not training well or competing well.
"I'm fitter and stronger than ever but I'm not getting the funding I need to fulfil my potential.
"Sport NI has been fantastic in the past. I just want it to reinstate the money that will help me get to the Commonwealth Games and do a good job for Northern Ireland."
Carson has launched a sponsorship campaign on Twitter with the aim of raising £1,000 each month to cover his fees.
Sport NI said the gymnast had not met the required standard of performance.
"Sport Northern Ireland and Gymnastics Northern Ireland agree minimal standards of performance, which are then used to determine whether an athlete is eligible for funding.
"Gymnastics Northern Ireland, in their application for athlete funding, stated that the athlete in question did not meet the agreed minimal performance standard."