World Gymnastics 2013: Is Max Whitlock the new Louis Smith?
By Ollie Williams
BBC Olympic sports reporter
Last updated on .From the section Gymnastics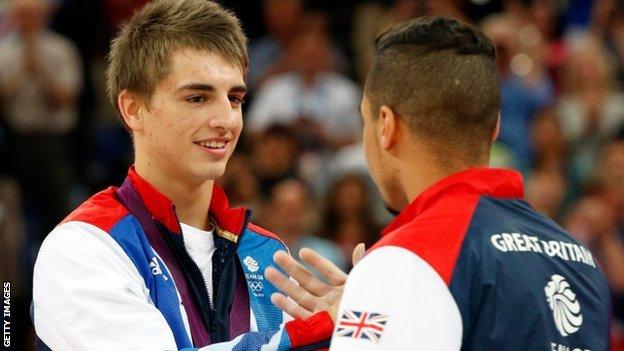 Max Whitlock thinks British gymnastics needs a new face. He would like it to be his.
Up to the 2012 London Olympics Louis Smith drew millions to his sport with an exuberant swagger tempered by occasional introspection. Smith was lively, spontaneous, and never, ever dull.
The Olympic silver medallist on the pommel horse turned his charisma into an industry after the Games, winning Strictly Come Dancing last December.
A return to gymnastics for Smith looks highly unlikely. The 24-year-old is "not sure" of his future but admits the decision is effectively out of his hands.
"I'm going to save all the injuries and torment of trying to push to 2016," he told the BBC.
"I feel I've got more to offer but when you've got young ones in the team like Max that are constantly pushing you and evolving the sport, it's hard to keep learning and pushing your body as you get older."
Whitlock was already pushing Smith in London, finishing behind him on the pommel horse podium. Now aged 20, he has since taken a European title in the floor event.
"I would absolutely love to go out there and lead the team," said Whitlock. "That'd be an honour for me.
"To be the face of British gymnastics can only be a great thing and that's something I'll try to aim for.
"Louis was a very good leader. He started it all, didn't he? Getting that medal in Beijing [bronze in the pommel horse at the 2008 Olympics, Britain's first gymnastics medal in 80 years] showed everyone it was possible.
"You look up to people [like Smith] and you want to have that feeling."
Whitlock has the tools for the job, arguably more so than Smith the specialist, for whom the pommel horse was his sole domain.
Selected to compete in the all-around - all six pieces of apparatus - at this year's World Championships, which take place in Antwerp, Belgium next week, Whitlock has the ability to reach at least three different finals.
But, in being a more rounded gymnast, Whitlock loses some of Smith's ability to act as ringleader.
"He was a specialist so he had the time," said Whitlock. "The rest of the pieces he was there to motivate the team, look at the scores, check out how everyone else was doing."
Smith remembers being the face of a sport as "a lot of weight to take on my shoulders". His advice for Whitlock is simple.
"I've told all the boys just to ignore it all. Find a way of putting it to the back of your mind," said Smith.
"I managed to do that for a number of years and I think that's why I broke down at the Olympic Games and started crying - it all came rushing back."
This will be Whitlock's first World Championships as a competitor. In 2011, he travelled as a young reserve to Tokyo, the scene of a calamitous outing for the British men's team when a first chance to qualify for London 2012 was squandered with a series of botched routines.
Four of the six British men heading to Antwerp this year were in that 2011 line-up. Daniel Keatings, who had spent a year fighting back from ligament damage to be fit for Tokyo, recalls the trip as an "absolute nightmare" during which he fell from two pieces of apparatus.
"We had to sit in our rooms, sulk and think about what we had done," said Keatings, who subsequently missed London 2012 after more injuries.
Though he returned to form spectacularly with the European pommel horse title earlier this year, Keatings has not competed at an event this prestigious since Tokyo.
What prospects, then, this time - without the intense expectation of a looming home Games?
In winning that European gold medal, Keatings vanquished one of the few ghosts Smith left intact: defeating Hungary's Krisztian Berki, the London Olympic champion, who beat Smith in almost every encounter.
"That was an amazing statement to say 'I'm back' after everything that has happened," said Keatings, whose public ambition is to become a world medallist on the pommel horse this year.
"I beat Berki in the Euros, hopefully the pressure is on him now to beat me. Louis was really happy for me. It was a big comeback."
Smith, more like family than a team-mate to close colleague Keatings, remains in the fibre of the sport and the fabric of its conversations. It will be some time before new faces fully emerge from his shadow.
But while there is no team event at this year's Worlds - an occasional quirk of the calendar - Smith believes his former team-mates can now share a burden he once carried alone.
"Now that the ball is rolling and people know we are a force to be reckoned with, the pressure is spread now between so many other fantastic gymnasts," he said.
"If they saw the way I handled it, if they're sensible and listen to any of that advice, they'll probably go on to have a better career than I did."