World Gymnastics 2013: British men expect medals in Antwerp
By Ollie Williams
BBC Olympic sports reporter
Last updated on .From the section Gymnastics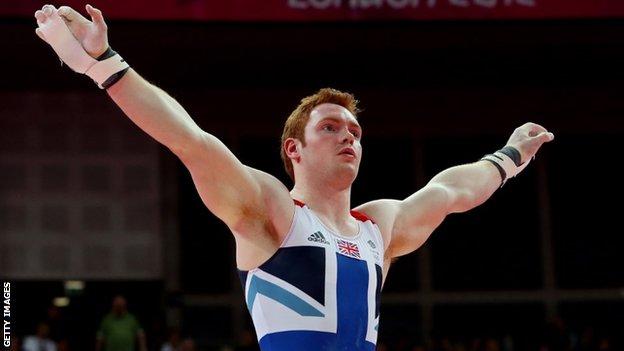 One year after winning team bronze at London 2012, Britain's male gymnasts are determined to step up a level at the 2013 World Championships.
Four of the five men from that Olympic team will compete in Antwerp this year, with only Louis Smith absent.
"The Olympics exceeded everyone's expectations and it's great to look back on a medal," said GB's Dan Purvis.
"But you want to achieve more. You have to judge yourself on this moment in time."
There is no team event at this year's Worlds, which begin on Monday, but Purvis will compete in the all-around event alongside Max Whitlock, the European all-around silver medallist, who also took gold on the floor at this year's Euros.
"This is my first World Championships and I'm looking forward to going out and proving myself," said Whitlock, who won pommel horse bronze alongside team bronze at London 2012.
"After the Olympics, I really want to prove myself as an all-around gymnast. I was really happy to come out with a European silver medal and I've upped it again for this Worlds."
Britain's two slots in the men's all-around were highly prized, with Purvis and Whitlock fending off several team-mates for selection in the event.
"It was tough, there are so many good competitors in this team," said Purvis. "Everyone just wants to get in that team. If you're in one of the best teams in the world, you've got every chance of being successful in a major.
"To get in the all-around final would be great. My aim is the top eight and if you're in the top eight, you have every chance of top three. It's quite an open field."
Japan's Kohei Uchimura, the Olympic all-around champion who has established himself as one of the greatest gymnasts ever with three back-to-back world all-around titles, is the undisputed favourite in Antwerp.
Russia's European champion David Belyavskiy, Germany's Fabian Hambuechen and Sam Mikulak of the US should also feature.
Kristian Thomas will compete on the high bar and vault for Britain - his superb vault score of 16.550 played a large part in securing Olympic team bronze for GB last year - while Daniel Keatings focuses on the pommel horse, on which he won European gold in April.
Smith, the Olympic silver medallist on the pommel horse, is pursuing other interests and says he is unlikely to return to the sport.
Sam Oldham competes on the floor and rings, with Worlds debutant Ashley Watson on parallel bars.
Britain's women's line-up combines the experience of Hannah Whelan and Becky Downie, both veterans of the 2008 Beijing Olympics, with 16-year-old Rebecca Tunney - Team GB's youngest athlete at London 2012 - and Ruby Harrold, 17.
Tunney and Harrold will tackle the all-around, Tunney having finished 13th in the Olympic competition while Harrold placed eighth at the European Championships in Moscow this year.
Downie, who missed out on London 2012, competes on the bars and beam with Whelan in the floor event.
Whelan suffered a massive disappointment at last year's Olympic women's all-around final when she fell to her knees on her vault landing, scoring zero and subsequently finishing last in the event.
The 21-year-old said: "If I'm honest, it's been difficult getting my head back in the game and getting fit again. It's been hard work, but it's been worth it.
"I still have a little more left inside me, I want to carry on. I'm feeling really good and excited to get out there and compete."
Russia's Aliya Mustafina, the all-around bronze medallist at London 2012 and reigning Olympic uneven bars champion, is the star attraction in the women's events.
The 18-year-old recently lost her coach, Alexander Alexandrov, in the wake of political infighting within the Russian federation. Alexandrov will be at the World Championships coaching the Brazilian women's team as they prepare to compete as the hosts at Rio 2016.
Olympic all-around champion Gabby Douglas is missing having only recently returned to training, so Mustafina's closest rivals are expected to include 16-year-old Simone Biles - who shone en route to victory in the US national championships this year - and Romania's Larisa Iordache.
Oksana Chusovitina, competing for Uzbekistan, will once again be the oldest female gymnast in action. Chusovitina, whose son is only three years younger than some of her rivals, is now 38 but remains a threat in the vault contest having won world silver in 2011.