World Gymnastics 2013: Keatings out after fall from pommel horse
By Ollie Williams
BBC Olympic sports reporter in Antwerp
Last updated on .From the section Gymnastics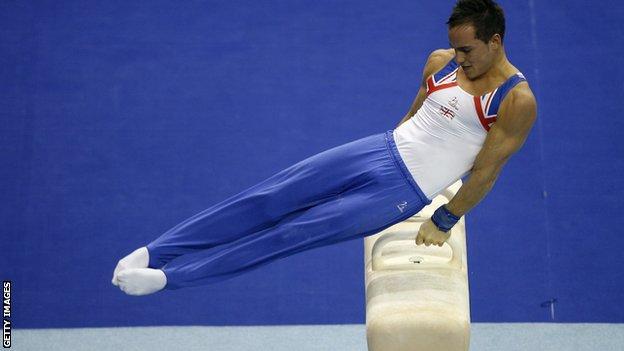 European champion Daniel Keatings fell from the pommel horse to end his hopes of winning a World Gymnastics medal.
The 23-year-old, who missed London 2012 during a two-year injury battle, scored 14.033 in his only event in Antwerp.
GB's Max Whitlock and Dan Purvis are into Thursday's all-around final - Whitlock in the pommel horse contest and Purvis in the floor event.
Kristian Thomas made the vault final but Ashley Watson and Sam Oldham missed out in the parallel bars and floor.
Watson scored 15.133 in his world debut on the parallel bars but did not qualify, and Oldham's 14.400 on the floor was not enough to see him join Purvis in the final.
Four of the six British men - Whitlock, Purvis, Thomas and Oldham - were members of last year's Olympic bronze medal-winning team.
There is no team event at this year's Worlds, rendering the week-long competition a test of individual skill under pressure.
Men's qualification concluded on Tuesday with a miserable outing for Keatings on the pommel horse.
His legs split and he slid off the apparatus midway through his routine - immediately ending any hope of reaching the final.
Thomas, whose mammoth vault score of 16.550 helped Britain to that historic team bronze at London 2012, registered 14.933 in qualifying this time under a slightly amended scoring system - enough to make his final in fourth place.
But his score of 15.033 on the high bar left him ninth, just 0.033 away from a berth in the final.
"Vault is definitely my stronger apparatus now, and I'm starting to show the consistency I had last year again," the 24-year-old from Birmingham told BBC Sport.
Gymnasts must finish among the top 24 qualifiers to reach the all-around final, and Whitlock and Purvis did so as they recovered from early errors to produce confident displays.
Whitlock won pommel horse and team bronze medals at London 2012 but this is his first Worlds, having travelled to Tokyo 2011 as the reserve.
The 20-year-old lost his nerve temporarily on the floor as he scored 14.433, well down on the 15.333 with which he won the European title in April.
But 15.408 booked him a place in the pommel horse final as the seventh-best qualifier, as Keatings and Olympic champion Krisztian Berki of Hungary both fell and did not reach the final.
Whitlock's overall score of 86.941 was good enough for an all-around position of 10th.
"I'm happy with that, it's my first competition at a Worlds and it was a good experience for me," he said.
"I made a few silly mistakes. Hopefully I can go back in the gym and correct them."
Liverpool's Purvis, world bronze medallist on the floor in 2010, scored 15.266 to reach this year's floor final in fifth place.
A bad stumble at the end of his high bar routine did not cost the 22-year-old in the all-around, as he posted an overall total of 87.031 for eighth place, slightly ahead of Whitlock.
"I was a bit erratic on high bar, but I seemed to calm down and picked it up quite well," Purvis told BBC Sport.
"I was about two marks down on high bar - if you add two marks to my score, I'll be up there in the top three. Hopefully I can put it right on Thursday."
All-around Olympic champion Kohei Uchimura, Japan's winner of the past three world titles, finished qualifying in first place with an overall score of 91.924.
Sam Mikulak of the United States lies in second place with 89.532, ahead of Japan's Ryohei Kato on 89.474 in third.
A strong high-bar final is in prospect for the weekend, with Uchimura, high-bar specialist Epke Zonderland of the Netherlands and Germany's Fabian Hambuechen all impressing during qualifying.
Women's qualification begins on Tuesday and concludes on Wednesday, with finals from Thursday to Sunday.