World Gymnastics: American Simone Biles wins all-around gold
By Ollie Williams
BBC Olympic sports reporter in Antwerp
Last updated on .From the section Gymnastics
Simone Biles won the women's all-around title at the World Gymnastics as the United States dominated in Antwerp.
The 16-year-old, in her first senior year, beat team-mate Kyla Ross by 0.884 marks thanks to a superb vault and her composure on the floor to finish.
"It just felt amazing and I'm just so happy," Biles told BBC Sport.
Britain's Ruby Harrold and Rebecca Tunney came 17th and 19th respectively in the 24-woman final as they fought to recover from early errors on the beam.
London 2012 Olympian Tunney, 16, fell from the apparatus to score 11.966, while Harrold, 17, did so twice for just 11.066.
After that shakiest of starts, Liverpool gymnast Tunney went out of bounds at the start of her floor routine for 13.000 - but recovered with a strong vault, scoring 14.866.
Somerset's Harrold improved on the floor to score 13.700, posted 13.900 on the vault and finished with 14.533 on the bars.
That score, the night's fifth best, should settle her nerves ahead of Saturday's uneven bars final alongside team-mate Becky Downie.
Harrold scored an all-around total of 53.199, with Tunney's 13.033 on bars handing her an overall score of 52.865.
"I'm disappointed but it's my first World Championship and the first of the Olympic cycle so I'll pick myself up and work hard in the gym," said Tunney.
"It's an amazing experience to be part of the British team at a World Championships and I'm looking forward to supporting the rest of the team in the finals over the weekend."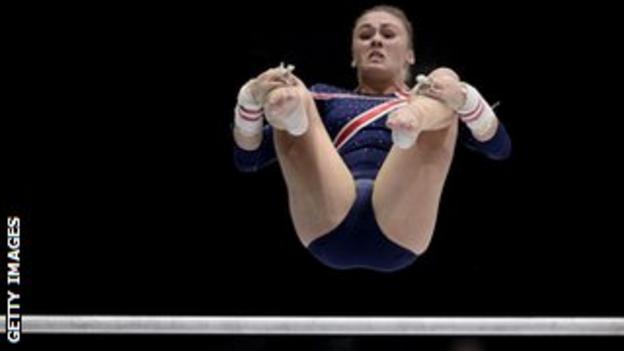 Harrold said: "Today wasn't the best competition for me but to be in a world final is already a huge achievement and I still have bars to compete tomorrow so I need to remain positive and look forward to that."
Meanwhile, Biles and fellow 16-year-old Ross - the top two qualifiers for this final - played out an entertaining battle for gold in a class of their own.
Even in the absence of Olympic champion Gabby Douglas, who has taken time out from the sport after her victory last year, the US held the podium in their grasp throughout Friday's final.
Biles took an early half-mark lead through the hefty start value afforded by her Amanar vault routine - one of the hardest available in the women's event - but Ross hit back with victories over Biles on the bars and beam.
However, national champion Biles triumphed on her world debut thanks to a stunning and confident floor routine which scored 15.266 - well ahead of Ross's 14.333.
That routine, beautifully executed under immense pressure as the last to compete, gave Biles a winning total of 60.216.
Ross took second with 59.332, ahead of Russia's Aliya Mustafina - the 2010 world champion - who scored 58.856.
"I was just having fun on the floor and on every event I do," Biles told BBC Sport. "That's what makes it fun, you get to show off your skills and have a good time."
Ross, a team gold medallist at London 2012 aged just 15, said: "I was so happy to be out there with Simone, we had such a good time.
"We were cheering each other on the whole way. We've been training so long for this, so just going into this competition we were well prepared and said, 'Do it like training, do it like training.'"
The American duo have seven individual finals between them over the next two days - Biles in all four, Ross missing out only on the vault, where McKayla Maroney will be the big threat for the US.
Britain's Dan Purvis will compete in the floor final on Saturday, while Olympic bronze medallist Max Whitlock is expected to challenge for a medal on the pommel horse.