World Gymnastics 2013: Kristian Thomas wins vault bronze
By Ollie Williams
BBC Olympic sports reporter in Antwerp
Last updated on .From the section Gymnastics
Kristian Thomas won bronze in the vault to claim Britain's first ever medal in the event at the World Gymnastics.
The London 2012 team bronze medallist delivered his two vaults to near-perfection on Sunday in Antwerp.
Thomas, 24, finished with an average score of 15.233, behind South Korea's Yang Hak-Seon (15.533) and American Steven Legendre (15.249).
"To make the final was the first aim, so I'm over the moon. I'm really happy and proud," said Thomas.
"Once again, the British gymnasts have proved how good we are and I'm delighted to have contributed to that success."
The Wolverhampton gymnast has long been considered a vital contributor in the team event, exemplified by the stunning vault he produced during London 2012's team final, helping GB to bronze.
But unlike world medallists Louis Smith, Daniel Keatings, Dan Purvis and most recently Max Whitlock, the podium had eluded him in individual competition until now.
Nor had 2013 shaped up well for Thomas, who missed much of the year - including the European Championships in April - through a fractured tibia.
"Three weeks ago I didn't even know if I'd be coming to the World Championships," he told BBC Sport.
"It's been a real rollercoaster of a year. Three weeks ago I was still battling to try to get into the team. To nail the first vault the way I did was so special."
Yang, the defending world and Olympic champion and the last to compete, cemented his dominance of the apparatus with another victory.
Britain finish this year's World Championships with two medals, supplied by Thomas's vault and Whitlock on the pommel horse.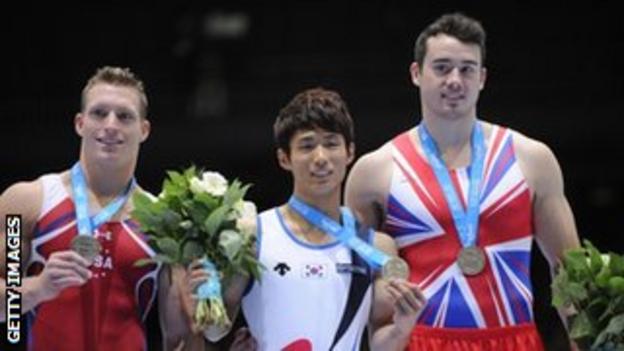 Add to that two near-misses - Whitlock's fourth place in an exceptionally competitive all-around final on Thursday, with Purvis narrowly missing bronze in the men's floor event - and British Gymnastics can be satisfied that the men are building on last year's Olympic success.
"Today, watching Kristian's final on the vault was really good. For GB to come away with two medals is amazing," said Whitlock, a double bronze medallist at London 2012 yet making his Worlds debut this year.
Elsewhere on Sunday, 16-year-old Simone Biles completed a hugely successful week for both her and the United States squad with victory in the women's floor final.
Biles, already the all-around champion, scored 15.000 to beat Italy's Vanessa Ferrari, her nearest challenger with 14.633.
The first-year senior also won silver on the vault and bronze on the balance beam at these championships.
The US won an unprecedented 12 world medals in Belgium, three more than the previous American record set in Melbourne eight years earlier.
The US men contributed four medals without winning a world title, while the women won at least one medal in every event - Kyla Ross taking three silvers and McKayla Maroney lifting the world vault title.
Russia's Aliya Mustafina won the beam event for her first world title in three years, and Japanese all-around champion Kohei Uchimura shared parallel bars gold with China's Lin Chaopan.
Sunday's concluding final, on the high bar, lived up to expectations as Olympic champion Epke Zonderland once again stunned the crowd with a daring and difficult routine.
The Dutchman scored 16.000 for his first world title, beating German friend and arch-rival Fabian Hambuechen, who could only manage 15.933 in response.