Luke Carson's Commonwealth hopes alive following surgery
Last updated on .From the section Gymnastics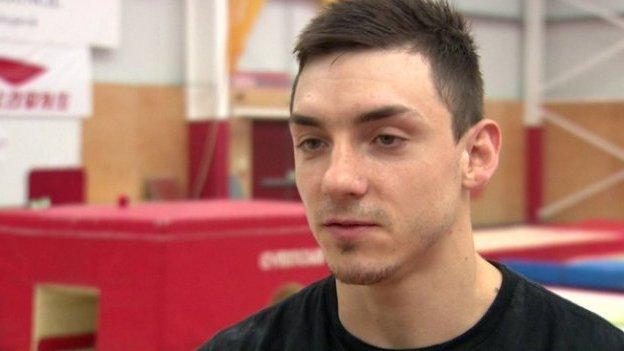 Lisburn gymnast Luke Carson's hopes of competing at next year's Commonwealth Games remain alive following successful surgery earlier this month.
However, Carson has begun his rehabilitation from the injury after undergoing an operation on 6 October.
"I met up with the surgeon (last week) and he is very happy with the way I am progressing," said Carson, 23.
Such was the severity of Carson's latest leg break, he is unlikely to be able to do the full range of the gymnastics events during the remainder of his career.
The vault, which Carson was attempting when he suffered his second leg break last month, may be beyond his compass from now on as may the floor exercises.
However, his surgeon has told him that he can aim to compete in Glasgow in the other gymnastic disciplines which include the pommel horse, rings, parallel bars and high bar.
"My surgeon said that it's all about trying to get back on to the foot. Trying to put pressure up through the leg again and getting the knee moving as much as possible."
Carson's latest surgery saw the removal of four screws and a titanium plate which had been inserted after his previous operation in 2011.
A new titanium rod was then placed down the full length of his tibia and the surgery also included a bone graft and the injection of a bone healing agent to speed recovery.
Initially medics had recommended the insertion of a steel rod which would have ended his gymnastics career before Carson had a further consultation with London-based orthopaedic surgeon Dr Fares Haddad.
Dr Haddad told Carson that he believed that it would be possible for the gymnast to resume his career following surgery and rehabilitation.
Carson is now back in the gym as the his regular base in Cambridgeshire where he trains with the British squad.
His hopes of representing Ireland at last year's London Olympics were wrecked after he broke the same left tibia in 2011.
Carson's latest injury was a further blow to the gymnast after his funding was cut by Sport Northern Ireland in the summer.