Kat Driscoll and Amanda Parker win synchronised world title
Last updated on .From the section Gymnastics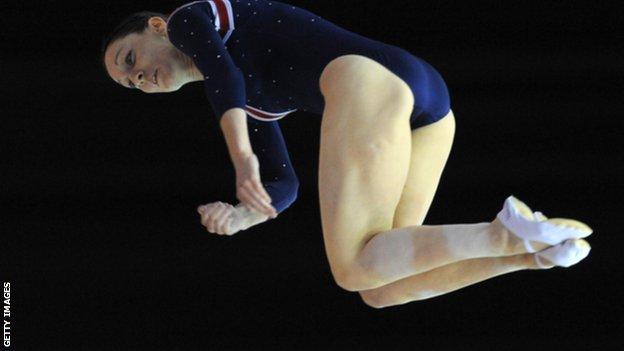 Great Britain's women's synchronised trampoline team of Kat Driscoll and Amanda Parker have won gold at the World Championships in Sofia.
The men's and women's tumbling teams also picked up bronze medals, as did the men's double mini-trampoline team.
Driscoll and Parker, who won team gold on Saturday, continued their dominance to score 47.500, 0.400 ahead of second-placed China.
"Words can hardly describe how we feel," Parker said.
"We did what we always do - we smiled at each other and that was the best we can do. We love each other off the trampoline and we love each other on the trampoline, to get this result is just an incredible feeling."
The GB women's tumbling team qualified for the final in second place, with Yasmin Tatie being the first to tumble, performing well to post 31.600. Rachel Letsche was next up with a brilliant pass to score 34.100. Lucie Coleback had the pressure of competing last and scored 32.300 for a team total of 98.000 which secured bronze.
The men's tumbling team qualified in third, with Daniel Lannigan scoring 32.800 to get the British campaign under way, followed by Greg Townley with a great pass giving him 37.200. Kristoff Willerton confirmed the bronze medal with a score of 36.400 to give GB a total of 106.400.
The DMT men's final saw Pete Cracknell and Matthew Swaffer end their international careers on a high.
Cracknell opened the scoring with 36.300 and Swaffer followed up with a score of 35.000. World Championships debutant Nathaniel Scott completed the British passes to score 35.200 to give the team a total of 106.5 for bronze.