Rebecca Tunney and Daniel Keatings earn gold in Liverpool
Last updated on .From the section Gymnastics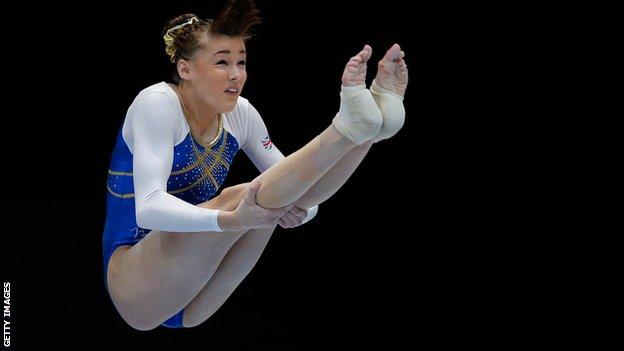 Rebecca Tunney followed up her British all-around title win with gold in the apparatus finals at the British Championships in Liverpool.
Tunney, 17, scored 15.400 on the bars to beat Rebecca Downie (15.100) and Claudia Fragapane (13.950).
On the pommel horse, Daniel Keatings, 24, scored a personal best of 16.133 to beat new men's all-around British champion Max Whitlock (15.966) to gold.
Olympic silver medallist Louis Smith, 24, was third with a score of 14.733.
European pommel horse champion Keatings also won on the parallel bars, his score of 16.000 beating Dan Purvis (15.566) and Whitlock (15.033), who himself earned two gold medals on the final day of competition at the Echo Arena.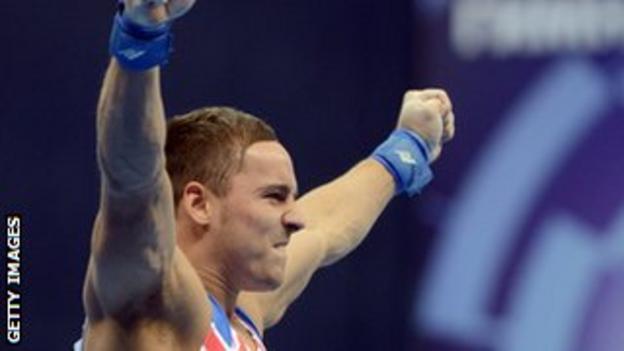 Whitlock's first came on the floor where his score of 15.600 beat under-16 all-around champion Giarrni-Regini Moran (15.033), with Reiss Beckford and Frank Baines tying for bronze on 14.566.
His second was won on the rings, scoring 14.933 to beat Purvis (14.566) into a second silver, with Sam Oldham and Theo Seager tied in third on 14.400.
Oldham won on the vault with an impressive 14.566, where Regini Moran (14.333) was again second and Dom Cunningham took bronze with 14.166. Kristian Thomas (14.600) took gold from Ashley Watson (14.466) in the high bar, with Oldham claiming his third medal with 14.300 for bronze.
Kelly Simm earned gold in the women's vault, scoring an average of 14.225 over her two routines to beat Fragapane, who won her second silver with 14.000, and Scottish Commonwealth Game hopeful Emma White (13.950).
On beam, Rebecca Downie continued her strong showing to take gold (15.140), followed by Hannah Whelan (15.050) and Tunney, who claimed her second apparatus medal with 14.050 for bronze.
Welsh gymnast Lizzie Beddoe took the floor gold with an impressive score of 13.250 to beat Emily Crowe (13.200) and Hannah Whelan (13.100).