European Gymnastics: GB women target team success in Sofia
By Nick Hope
BBC Olympic sports reporter
Last updated on .From the section Gymnastics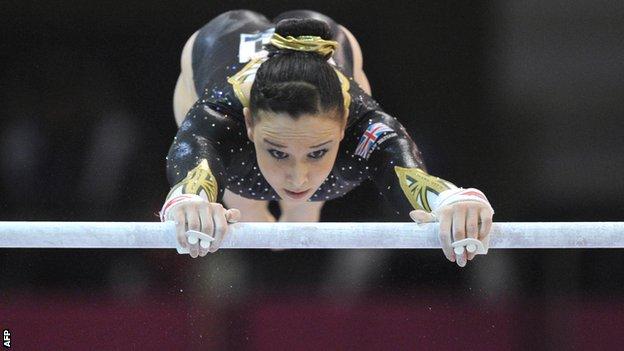 Olympian Hannah Whelan says British gymnasts will prioritise team success over individual glory at the European Championships in Bulgaria this week.
Whelan, 21, is part of a new-look five-strong senior women's squad who believe they can challenge the sport's elite.
"There've been lots of changes, but we are a really close group and are aiming for a place on the rostrum," she said.
"The team is definitely the priority and anything in the individual is a bonus."
Whelan, Rebecca Downie, Rebecca Tunney, Ruby Harrold and Claudia Fragapane will compete in the qualification round in Sofia on Thursday.
They will then hope to return for the team finals on Saturday and individual apparatus finals on Sunday.
"The whole team has been working really hard and are prepared for a good championships," Downie told BBC Sport.
The 22-year-old was part of the silver medal-winning GB team in 2010, but considered quitting the sport after missing out on selection for London 2012.
"I still felt there was more in me and I'm looking forward to more success, but won't be putting as much pressure on myself as I used to," she said.
Downie, Tunney and Harrold all have the potential to challenge for individual honours in the bars event - although only two athletes from each nation can qualify for a final.
Newcomer Fragapane, 16, is also expected to be in contention for success in the vault competition.
"If we can do all our routines clean we [the team] can get a place on that podium," Tunney told BBC Sport.
"I can certainly make the bar final, but as it's the first event of the year we're not sure how the other countries and competitors are looking."
Five British youngsters, including Rebecca Downie's younger sister Ellie, will compete in the junior team qualification rounds on Wednesday before returning for the team finals on Friday and individual events on Sunday morning.
The British men's team, led by double Olympic bronze medallist Max Whitlock, will begin their European campaign the following week, with their qualification rounds on Thursday, 22 May.
European Artistic Gymnastics schedule (all times in BST):
Wednesday 14th May - junior women's qualifications (08:00-17:30)
Thursday 15th May - senior women's qualifications (08:00-17:30)
Friday 16th May - junior women's all-around final (13:00-15:00)
Saturday 17th May - senior women's team final (13:00-14:40)
Sunday 18th May - senior and junior apparatus finals (juniors 07:30-09:50; seniors 12:00-14:20)