European Gymnastics: British men battle back to secure silver
By Nick Hope
BBC Olympic sports reporter in Sofia, Bulgaria
Last updated on .From the section Gymnastics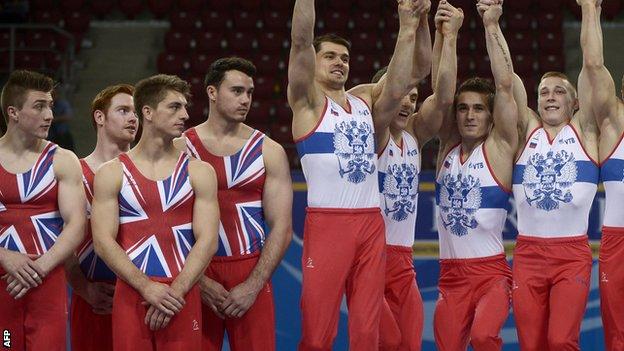 Great Britain's men failed to retain their team title at the European Artistic Gymnastics Championships, finishing second to Russia in Bulgaria.
Britain won gold for the first time in 2012, and qualified for this year's final with the highest score.
However, errors by several squad members early in the event proved costly as they finished 2.006 points behind Russia, with Ukraine third.
Captain Kristian Thomas said: "It was tough, but we showed great character."
The British team, also including Max Whitlock, Dan Keatings, Dan Purvis and Sam Oldham, scored 265.953 from the six apparatus.
The result means they equalled the achievement of the British women's team, who finished second to Romania last week.
The men were in fourth position after a difficult opening two rotations, with world bronze medallist Thomas landing on his knees in the vault apparatus, and Whitlock falling during his dismount from the rings.
Thomas said: "We left ourselves too much to do, but we managed to battle back to win silver and that shows what a strong team unit we are."
Double Olympic bronze medallist Whitlock found his form in the latter half of the final, delivering sublime routines on the floor and the pommel horse.
"I was a bit gutted with the rings, but it's given me things to work on and hopefully in two years' time we can be back challenging for that gold again," he told BBC Sport.
And Oldham, who at 20 is the youngest member of the squad and was not part of the winning side two years ago, believes the team has a big future.
"This performance just shows what a great team we are - we win as a team and we fight as a team," he told BBC Sport.
The squad will be expected to increase their medal tally significantly on the final day of competition on Sunday, when gymnasts contest individual finals.
Whitlock will return for the pommel horse and will be joined on the floor - an event he won at last year's individual European Championships - by Purvis.
Thomas and Oldham will contest the high-bar final, which also features Olympic champion Epke Zonderland and London 2012 silver medallist Fabian Hambuchen.