"Unbelievable" British gymnastic success can continue - Tweddle
By Nick Hope
BBC Olympic sports reporter in Sofia
Last updated on .From the section Gymnastics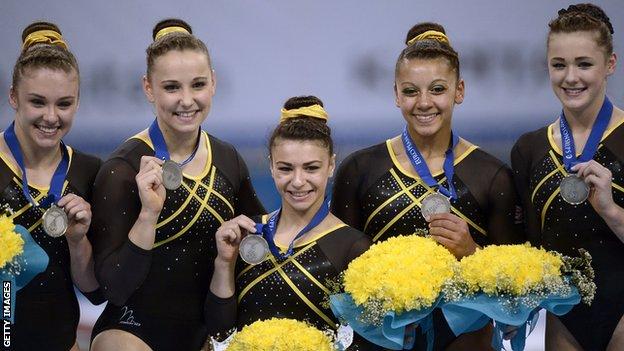 The British team has an "amazing" chance of securing multiple honours at the Rio Olympics according to Britain's most decorated gymnast Beth Tweddle.
The senior and junior teams won a record 24 medals at the European Artistic Championships in Bulgaria.
Max Whitlock and Becky Downie claimed senior titles, while juniors Nile Wilson and Ellie Downie both excelled.
"In the past we had potential for medals, now we're capable of delivering," Tweddle said.
Team GB won four gymnastics medals at the London Olympics and Tweddle, who claimed bronze in 2012 before retiring last year, believes Britain can match if not better that at the next Games in 2016.

"Every single GB gymnast has come away [from the 2014 Europeans] with a medal and a few years you would never have dreamt that could be possible," she told BBC Sport.
"They now have an amazing chance of further success over the next few years, at the 2015 World Championships and Rio Olympics."
Becky Downie became the first woman other than Tweddle to win a European gymnastics title on the uneven bars, whilst Whitlock defeated reigning Olympic champion Krisztian Berki to claim pommel horse gold.
The British women's squad also equalled their best-ever team result with silver, although there was a degree of disappointment when the men's team failed to defend the title they won in 2012.
However, head coach Eddie Van Hoof believes that could help the squad - who won a historic team bronze at London 2012 - in the future.
"I think they all know they let themselves down a little bit at the start of that European team final before battling back to get silver," he told BBC Sport.
"But we had a similar experiencing in 2011 not directly qualifying the team for the London Olympics and that created a real impetus to not experience that again."
Double Olympic bronze medallist Whitlock believes some of the juniors - like Wilson who won a European record of five titles - will soon be making an impact at senior level.
"For the juniors to be dominating at that age is a great sign and I'm looking forward to them coming through and pushing us," he told BBC Sport.
"I know the skills they will bring will be big and that's only a good thing that's going to make us stronger.
European high bar silver medallist Sam Oldham agrees: "The juniors were unbelievable, it's crazy really to have that much depth in Britain.
"Some of us seniors are thinking it's going to be hard for us to keep our places!"
The next major event for British gymnasts will be the Commonwealth Games where they will be represent their respective home nations.