Glasgow 2014: Gymnastics duo in Commonwealth Games leap

By Keir Murray
BBC Sport Scotland
Last updated on .From the section Gymnastics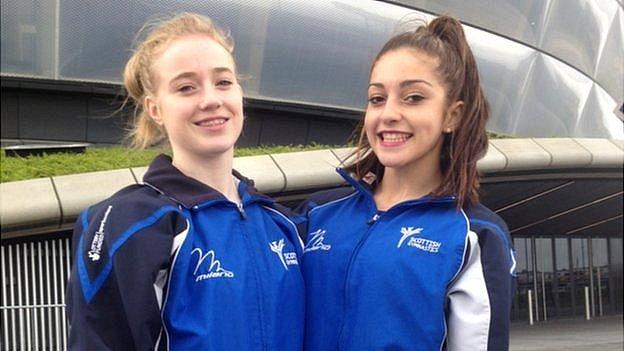 You get the feeling Carly Smith was destined to represent Scotland at this summer's Commonwealth Games.
She was born in Glasgow, the host city, and still lives there, attends the Glasgow School of Sport and is a member of the City of Glasgow Gymnastics Club.
What's more, as a 10-year-old, back in 2007, she helped launch Glasgow's bid to host the Games.
Smith describes herself as "a late starter". She took up gymnastics when she was nearly eight.
She has flourished under the guidance of her coach Sandra Walsh and is delighted to be part of Scotland's 10-strong artistic gymnastics team.
Smith's rise to the Commonwealth team has been mirrored by her friend Cara Kennedy, at 16, a year Smith's junior.
For the pair, their selection for Glasgow 2014 - which starts on 23 July - is a natural progression. They represented their country at the Commonwealth Youth Games in 2011, finishing fourth in the team rankings along with Shannon Archer.
"I started going to a kids' class when I was five because I had too much energy," says Kennedy.
"I got recommended to go to my current club, City of Glasgow, when I was six."
Smith and Kennedy's education is unlike that of most pupils. At the Glasgow School of Sport at Bellahouston Academy they are in a group of 20 gymnasts who combine their regular school work with their sporting development.
"Maybe two periods a day, you'll be training while others are at a class, so we have fewer classes," explains Kennedy, from Paisley.
Walsh, high performance gymnastics coach at the school, has worked with Smith and Kennedy for a decade.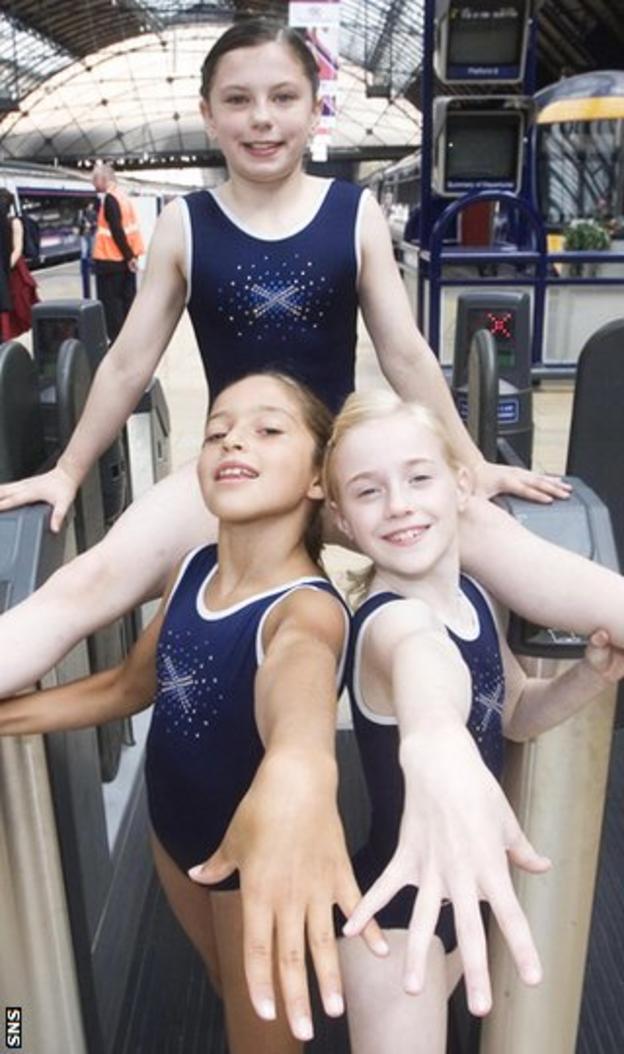 She speaks passionately about her sport and the opportunities afforded to the young duo at the School of Sport. She realises the demands placed on them and praises their single-mindedness.
She told BBC Scotland: "Gymnastics is one of those sports where the children are very young and you are asking them to make a lot of sacrifices.
"The girls have not gone to the school that's in their catchment area. At primary seven they have lost all their friends. They have come to a new school and made new friends.
"They made that decision to come to a sports school to get extra training to meet their goals. To do that at 12 years of age shows their determination and focus.
"They've reduced their education to get more training and they spend 30 hours a week training, so they have very little time for socialising."
Smith and Kennedy have just completed their sixth and fifth years respectively. Smith, the Scottish floor champion, plans to do a seventh year to add to her qualifications after two years where gymnastics has demanded her attention.
"Glasgow School of Sport has a modified timetable," explains Walsh. "We have five sports at the school and the gymnasts do part-schooling and part-training.
"They come in early and do a couple of hours' training with me and then they join their peer group in Bellahouston Academy.
"They don't get a choice to do art or PE, for example. They just do the main subjects like maths, English, biology and chemistry.
"They are expected to attain a certain level in school as well as their training.
"The girls this year have taken three Higher subjects instead of the normal five, so when it was time for the other two subjects they came across to the gymnastics hall with me."
While most senior school pupils have exam results to fret over this summer, Smith and Kennedy have the more immediate concern of performing for their country in front of thousands at the Hydro.
They will compete in the team and individual events, hoping to display their prowess in four disciplines - vault, bars, beam and floor - under the guidance of Sandy Richardson and choreographer Daniela Nanova.
"We're still quite young," says Smith. "This will be our first Games and it's great that it's in our home town."
In addition to being the current Scottish floor champion, Smith won the all-round silver medal at this year's Scottish Championships. She was also a member of the team that won gold at the 2014 Commonwealth Invitational and silver at the 2013 Northern European Championships.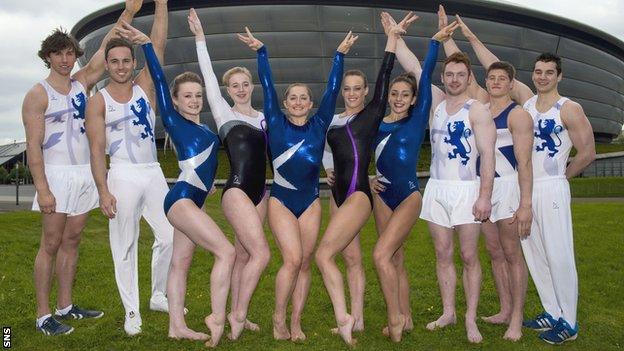 Kennedy won all-round bronze at the 2013 Scottish Championships and was fifth in the floor at the 2012 Northern European Championships.
A slight injury prevented her from joining her Scotland team-mates in winning the Oberland Cup in Zurich recently.
Both will travel to Northern Ireland with the rest of Scotland women's artistic gymnastic team for the first of two pre-Commonwealth Games training camps.
Seven years ago they featured in the launch of Glasgow's Games bid.
"It's amazing that they've been part of that journey to bring the Games to Glasgow," says Walsh.
"It's a really nice experience for me to watch them grow up, become young adults and then complete the journey by seeing them compete in the Games at the Hydro."
That venue will host the 2015 World Gymnastics Championships next October, a chance to build on the legacy of the Games.
Smith and Kennedy are themselves the legacy of the original Games bid, and the product of their ambitious school.
They've invested much already in Glasgow 2014.