Craig Heap calls for more UK Sport funding
By Gemma Collis
BBC Kick Off Reporter
Last updated on .From the section Gymnastics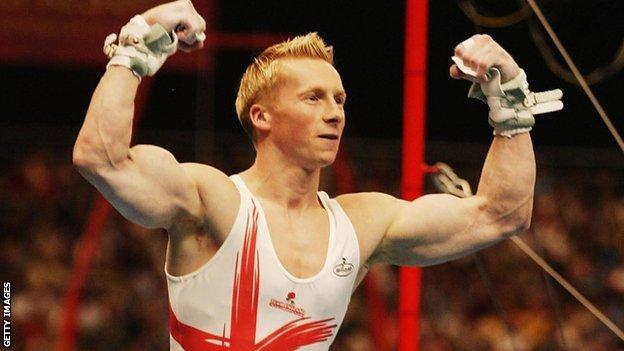 Two-time Commonwealth gymnastics gold medallist Craig Heap wants more funding for Britain's less successful sports.
And in 2014, British gymnasts have won 33 medals in this year's European and Commonwealth Games.
"What I'd like to see is funding go to the other sports that maybe aren't doing as well as what gymnastics is," Heap told BBC Newcastle.
"For years we've been trying to work out what it is that needs to be done to become successful and in certain sports we know what it is now and we've got a really proven system."
Heap, who won team gold at the 1998 and 2002 Commonwealth Games, believes the recent success of British Gymnastics is no surprise.
"Funding within any sport is paramount," he said.
"The reason we had the best Olympics in London in 2012 has got to be down to funding, the reason we've just had the best Commonwealth Games has got to be down to funding."
However, not all sports have seen such a funding increase - both Olympic and Paralympic sports have been hit by funding withdrawals as part of UK Sport's "no compromise" policy.
The policy aims to direct resources to the sports with the greatest chance of achieving medal success, whilst challenging underperformance and poor governance in those sports struggling to compete on the world stage.
Sports affected by funding withdrawal for the Rio 2016 cycle include basketball, synchronised swimming and wheelchair fencing.
Unfunded sports for Rio 2016 cycle:

Olympic:
Paralympic:

Basketball

Wheelchair fencing

Synchronised swimming

Sitting volleyball

Water polo

Visually impaired football

Handball

Goalball

Table tennis

Volleyball

Wrestling
Those without UK Sport funding are left to meet training and competition costs on their own - something Heap does not believe to be feasible in the modern sporting world.
"The days are gone where you hold a part-time job and try and fit your sport in around that - those days are long gone," said the former British captain.
"Even though sport is amateur, you have to treat it in a very professional manner and that means dedicating your life.
"It's not just those four, five, six hours you're training - it's 24 hours a day attitude."
One sport which has hit out since losing their funding in this year's annual review has been basketball.
Having initially been given a one-year funding reprieve to prove themselves following the London 2012 Olympics, basketball once again found their funding removed in January 2014 after they failed to progress past the first round of the 2013 EuroBasket tournament.
Burnley-born Heap however believes sports such as basketball who have not yet tasted success at major championships should be given the chance to do so through financial support.
"You've really got to invest in sport if you want to be successful," Heap added.
"I believe that we can be world leaders in every single sport in this country if we have the support."