World Gymnastics: Simone Biles secures fourth gold in China
By Nick Hope
BBC Olympic sports reporter in Nanning, China
Last updated on .From the section Gymnastics
United States gymnast Simone Biles rounded off an incredible World Championships by winning the individual beam and floor titles in China.
It took the 17-year-old's medal tally to five after winning the all-around and team events earlier in the week and finishing second in Saturday's vault.
"I'm so pleased with everything I've achieved," she told BBC Sport.
Britain's Nile Wilson was an impressive fourth in the high bar, with team-mate Claudia Fragapane eighth on the floor.
Fragapane, 16, who won a record-equalling four gold medals for England at the 2014 Commonwealth Games, suffered a fall early in the floor routine.
However, she quickly recomposed herself to score 13.100 in the event where Romania's Larisa Iordache was second and Russian Aliya Mustafina third.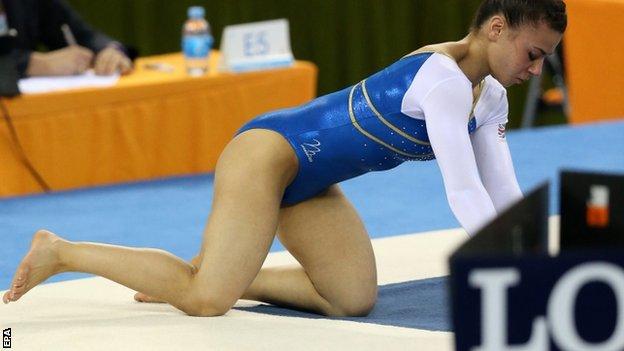 "I was disappointed to finish that way, but I've learnt so much this year and being here at my first Worlds," Fragapane told BBC Sport.
Wilson, 18, has also enjoyed an incredible year, winning a record-breaking five European junior gold medals, before claiming two Commonwealth titles in Glasgow.
He ruled himself out of the all-around final after injuring a wrist - where replacement Max Whitlock went on to claim silver - but was happy with his call after finishing fourth on the high bar.
"It was definitely the right decision to not do the all-around; the extra few days have helped me," he told BBC Sport.
"It's been a brilliant year, to come fourth is unbelievable and it just makes me want to work even harder."
Although still two years away from the Rio 2016 Olympic Games, Biles is widely regarded as a multi-medal winning gymnastics prospect.
Four gold medals in Nanning has taken her career tally to six - meaning she has moved ahead of the previous American women's record holder Shannon Miller, who won five between 1993 and 1994.
"All of the success proves that doing all of the hard training is worthwhile and I just want to keep pushing myself more and more," she said.
Dutch Olympic champion Epke Zonderland won high bar gold for the second time in his career with a supreme display.
The gymnast, who is also training to become a surgeon, finished clear of Japan's five-time all-around world champion Kohei Uchimura and Croatian Marijo Moznik who took silver and bronze respectively.
Ukrainian Oleg Verniaiev won his first gold medal of the championships on the parallel bars and dedicated the win to those impacted by the conflict in Crimea back in his homeland.
"I hope people at home see this and are happy and in time the troubles can just stop," he told the BBC.
The 2015 World Artistic Gymnastics Championships will be held in Glasgow from 23 October to 1 November.