World Tumbling: Rachael Letsche crowned world champion
Last updated on .From the section Gymnastics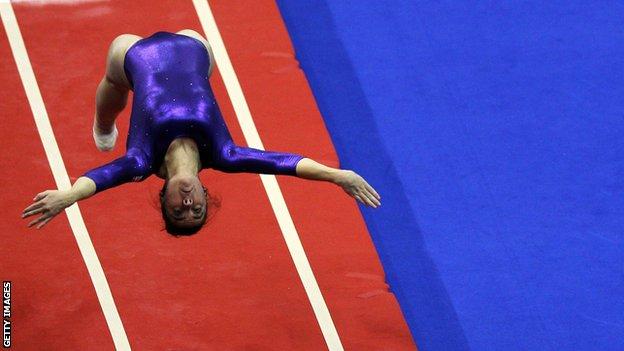 Great Britain gymnast Rachael Letsche jumped from eighth place in qualification to be crowned women's world tumbling champion in Florida.
Letsche, 23, claimed gold after a solid first run and completed another well executed pass to finish 0.200 points ahead of China's Chen Lingxi.
"It's an overwhelming feeling I'm so shocked with the results," she said.
Olympian Kat Driscoll missed out on a medal after finishing fourth in the women's trampoline final.
Daytona Beach, Florida. Gymnastics results for Great Britain athletes:
Women's tumbling: First - Rachel Letsche, eighth - Lucie Colbeck
Women's trampoline: Fourth - Kat Driscoll, ninth - Pamela Clark, 14th - Bryony Page
Women's double-mini trampoline qualification: Eighth - Nicole Short (reaches final), 16th - Georgia Downing
Men's tumbling qualification: Seventh - Kristof Willerton (reaches final), 14th - Greg Townley, 19th - Steve Gilmore, 29th - James Booth