European Games: GB gymnast Kelly Simm to showcase new skill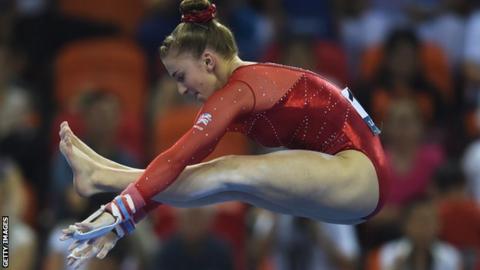 Great Britain gymnast Kelly Simm has said she plans to showcase a skill which has "never been competed before" at the European Games this month.
The Commonwealth Games gold medallist will compete in four disciplines in Baku, along with team-mates Charlie Fellows and Georgina Hockenhull.
"I'm going to debut my new skill on the bars, which hasn't been competed by any gymnast before," Simm, 20, said.
"It could get named after me if I complete it, which is really exciting."
If Simm manages to pull off the skill in Azerbaijan, she could join Britain's most successful gymnast Beth Tweddle in having a move named after her.
She will be taking part in the first ever European Games, after they were devised by the European Olympic Committee and launched in Rome in December 2012.
Can Simm follow in Tweddle's footsteps?
The 'Tweddle' is described as a sole circle backward with counter straddle hecht and a half turn, to hang on the high bar in a mixed L-grip
Simm added: "My coach was just randomly playing around and said 'why don't you try this?'
"It's a release move that you do without putting your feet on the bars, so they go through your hands.
"It's really rare to find or think of, skills that haven't been done nowadays, but me and my coach have been working really hard."
Simm, who is from Southampton, was part of a GB team including Claudia Fragapane which finished sixth in the World Championships final in China last year.
The 20-year-old is also studying for a sports science degree at university.
"This year my scores have been getting higher and higher, so I really do have high hopes," she said.
"In my head there are certain things that I'd really love to achieve but I don't want to focus on that too much."