European Games: Brinn Bevan 'did not expect to get medal'
Last updated on .From the section Gymnastics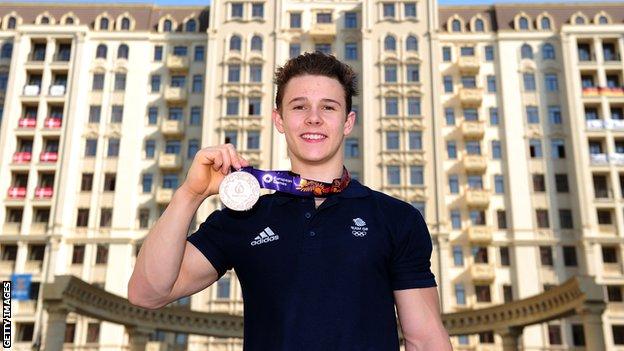 European Games bronze medallist Brinn Bevan says he was not expecting to finish on the podium in Baku.
The Basildon gymnast scored 14.200 in the pommel horse final to finish behind Sašo Bertoncelj and Oleg Stepko.
"It's my first senior international up against all the big names, it's been great to mix with them and I didn't expect to get a medal," said Bevan, 18.
"A few people before me made a mistake - for me it was trying to get through and I've come through it."
He added: "I was really nervous because that routine meant absolutely everything to me. I've done it a million times in training but it's a different feeling in competition. It's just about holding it together on the day."
Bevan, who finished 14th in the all-around final, hopes his performance in Baku is the start of his path towards the Rio Olympics in 2016.
"I think it's the first step of many. I'm heading in the right direction for where I want to be," said Bevan. "A few more big competitions and hopefully it's a big stepping stone to the Olympics next year."