Rio 2016: Louis Smith says body has taken pounding in build-up
Last updated on .From the section Gymnastics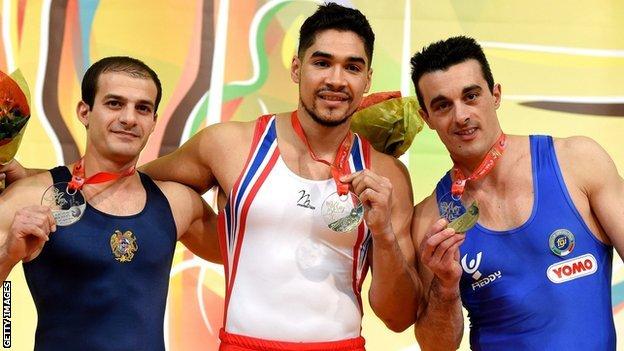 Louis Smith says he is pleased with his training as he bids for a Rio Olympics spot, despite the impact on his body.
"The only problem is the body - when I was 19 or 20, my body was like a rubber band," the 26-year-old Briton told BBC Radio Cambridgeshire.
"Now it's an effort to get up in the morning and to get going takes longer. The body has taken a pounding."
Smith retired from the sport in 2013, but returned the following year, winning team gold at the Glasgow Commonwealth Games.
He followed that up with individual gold at the European Championships in Montpellier earlier this year, and says he wants to make the most of his gymnastics career while he can by getting into the five-man British team for the World Gymnastics Championships in Glasgow in October.
There if the team finish in the top eight they should gain automatic qualification for Rio 2016.
"After coming back from the European Championships and getting gold, there's no point in wasting my talent," he said.
"I need to make the most out of every second I've got because youth is a wonderful thing, you don't realise it until it's gone.
"I'm clinging on to it, and hopefully I'll get to the World Championships and blow the competition out of the water.
"What's great about me is if someone says I can't do something it makes me want to do it. People said I was out of shape - a couple of months ago I won gold at the European Championships. I love proving people wrong."