World Gymnastics: Daniel Purvis asks crowd to cheer GB to Rio
By Amy MacBeath
BBC Sport Scotland
Last updated on .From the section Gymnastics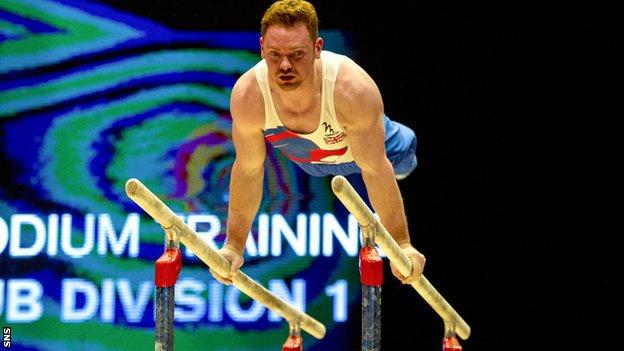 World Gymnastics Championships
Venue:
Hydro Arena, Glasgow
Date:
23 October to 1 November
Coverage:
Live on BBC Two and online from 27-30 October (19:00 BST), BBC One on 31 October (13:30) and BBC Two on 1 November (13:30).
The only Scot in team GB for the Glasgow 2015 World Gymnastics Championships wants the home crowd to help cheer them to the Rio Olympics.
Daniel Purvis, who won gold at Glasgow 2014 Commonwealth Games, says the support could help them gain valuable qualification points for Brazil.
"Being up in Glasgow it's always a massive support," said Purvis.
"World Championships is massive pressure but with the crowd behind us we'll feel calm and be ready."
Getting to Rio is very much on their minds - Team GB have to finish in the top eight to qualify for the Olympic Games next summer.
Purvis said while it is their main aim, they are hoping to make some finals over the next week, and some medals too.
"If everything goes smoothly it should happen," he said. "The team look really good, routines are going really well.
"You only get one chance, but we've prepared the best we can so everyone is looking good, hopefully can hit our routines and it'll be no problem.
"This will be a massive stepping stone. It's a squad of 15 of us that look so good so it was tough just getting on this one, but overall it makes our Olympic team that much stronger.
"I'd love to be there but we'll see - I'll be back to the gym after this."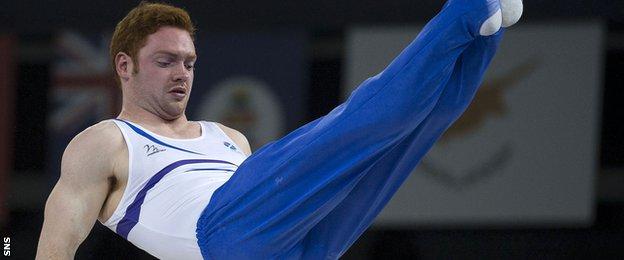 With Olympic, Commonwealth, European and World medals under his belt, it's hard to imagine the Crosby-born gymnast would still be apprehensive ahead of major competitions.
"It's always quite nerve-wracking and being an Olympic qualifier we all have to do our jobs, but preparation is there so we'll try and enjoy it as much as we can," said the 24-year-old.
"I'm sure after the first few pieces we will start to relax and I'm sure the crowd will be giving us a lot of support.
"Individually I'd love to make the top 24, from there if I can make the top eight it would be fantastic - anything can happen in gymnastics."
At the last World Championships Team GB came in fourth, just outside of America, and Purvis is relying on a noisy support to give them an advantage and said it always helps them perform better.
He said: "Support us as hard as you can, the Commonwealth games was fantastic and we really need you out there so please come."
Purvis has fond memories of last summer and competing for his country, memories which came flooding back to him on his arrival at the venue.
He said: "From the outside it was a flashback of the Commonwealth Games. Being in the arena it's all a little bit different, the lighting and positions of things, but at the same time it does feel similar and hopefully we'll have an advantage because we competed here last summer.
"It was quite emotional, it was a long week with back to back competition.
"Walking out in front of the home crowd was electric really, it was fantastic and to stand on that podium with all my other team mates and individually it was just an amazing thing to do in front of a home crowd."
And he added his routines have come on since Glasgow 2014, when he won gold on the parallel bars and bronze on the men's rings.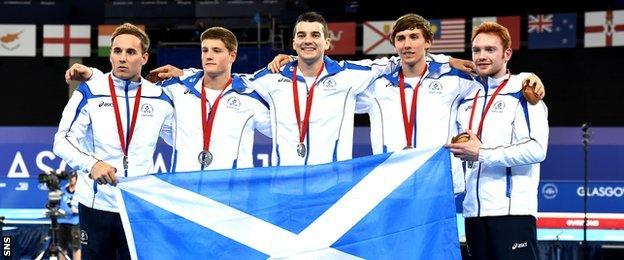 "My pummel is a bit more consistent, touch wood, at the moment and everything has improved quite a bit so just trying to stay tidy.
"I'm getting a bit older so need to neaten everything up but I couldn't ask for a better preparation."
With the 2012 Olympic Games and last year's Commonwealth Games both on home turf for the gymnast, he is pleased to see his sports profile rise.
"It's just great to be an ambassador for young gymnasts coming through, and the girls side look fantastic too. I'm just happy to be a part of it."