Twelve-year plan to increase World class Scottish gymnasts

By Jane Lewis
BBC Scotland
Last updated on .From the section Gymnastics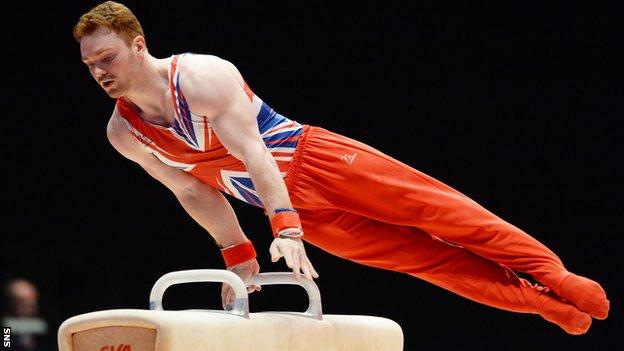 Scottish Gymnastics hopes its 12-year plan will ensure it will improve on having only one Scot competing at the World Championships.
Daniel Purvis is the only Scot in the Great Britain team at the event in Glasgow this week.
Membership has grown by 13% since last year, with more than 20,000 members at 147 affiliated clubs across Scotland.
"The highlight of our strategy is world class at all levels," said Scottish Gymnastics' Euan Lowe.
He added: "We're working over a 12-year stretch to have stronger clubs, more youngsters being involved in gymnastics in a better and easier way than they've been able to before.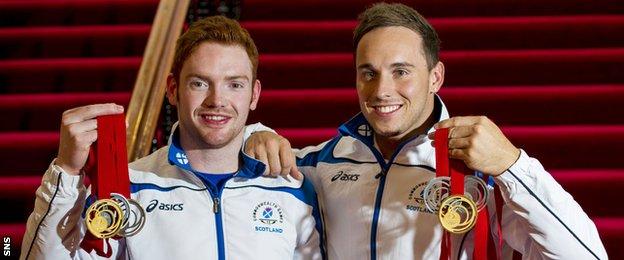 "We're investing a lot of time to make sure we have a stronger talent pool so that we have more Scots competing on the world stage as we're seeing in this 10 days.
"That's going to be probably a stronger measure of how much impact we've made with the system we're trying to put in place.
"We're not just solely focusing on the Commonwealth Games. Our focus is looking beyond Commonwealth Games to world stage."
With more than 40 years experience, gymnastics coach Sandy Richardson is hopeful the plan will pay dividends.
"The coaches are out there," he told BBC Scotland.
"We've got the coaches but they've got other jobs because they can't afford to just coach or the children can't get out of school during the day - there's no point in them being there if the children aren't there.
"We've got the facilities but we're sharing them with pre-school, recreational gymnasts and gymnastic parties, things like that."