British Gymnastics Championships: Ellie Downie takes vault and bars golds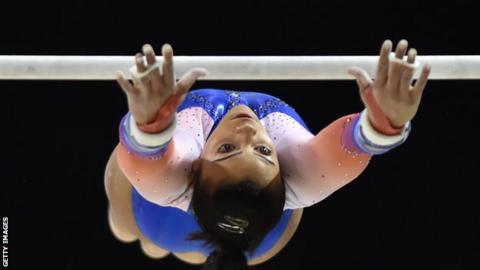 Ellie Downie added vault and bars gold medals to her all-around title on the final day of the British Gymnastics Championships in Liverpool.
The 17-year-old won vault by nearly a full mark then claimed the bars title after her older sister Becky fell.
Claudia Fragapane marked her return to competition after Strictly Come Dancing with a silver in the floor.
She scored 13.050 but was beaten to the title by 15-year-old first-year senior Maisie Methuen, who managed 13.425.
Among the men's Masters golds were Courtney Tulloch (rings), James Hall (parallel bars) and Joe Fraser (high bar).
"I came in really prepared so to win the all-around as well as vault and bars is amazing," Ellie Downie told BBC Sport.
Fragapane, who finished fourth in last year's Strictly, received the biggest cheers of the day from the crowd.
"It's great to be back in gymnastics," the 19-year-old admitted.
"The Strictly experience has made me more confident and it's taught me to chill a little bit more and enjoy gymnastics more."
Methuen added: "It's amazing. I never expected to win the gold. I just wanted to beat what I did yesterday so I'm really happy."