Gabby Douglas: Olympic champion reveals abuse by USA team doctor Larry Nassar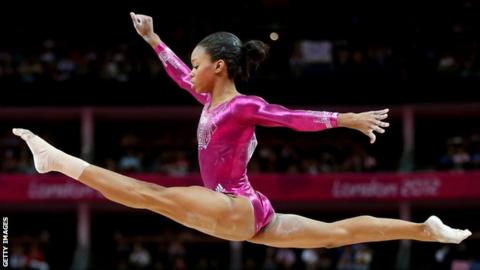 Gabby Douglas has become the third member of the USA's London 2012 Olympic gold medal-winning team to say she was abused by team doctor Larry Nassar.
Douglas, 21, had been accused of blaming victims last week, after saying that women should "dress modestly" to avoid enticing "the wrong crowd".
She apologised for the comments, which came after team-mate Aly Raisman revealed she was abused by Nassar.
And a representative has since confirmed Douglas was also a victim.
Team-mate McKayla Maroney, who was part of the 'fierce five' who won gold in London, has also come forward to say she had been molested by Nassar.
In a statement posted on Instagram, captioned 'please hear my heart', Douglas offered support to her team-mates and said: "I didn't publicly share my experiences as well as many other things because for years we were conditioned to stay silent and some things were extremely painful."
Nassar was involved with the USA team for nearly three decades and worked with the gymnasts at four Olympic Games.
He is due in court on Wednesday, having pleaded guilty to child pornography charges, and is reportedly set to be jailed for 25 years under a deal agreed with prosecutors over 22 criminal sexual misconduct charges he is facing.
Nassar's case was part of a scandal which saw USA Gymnastics president Steve Penny resign last year. Penny was accused by victims of failing to quickly notify authorities about abuse allegations.