Larry Nassar: USA Gymnastics' executive leadership resigns over abuse scandal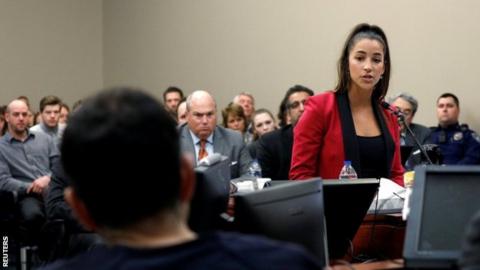 The executive leadership of USA Gymnastics' board of directors has resigned.
It comes in the wake of the sexual abuse scandal involving former team doctor Larry Nassar, who has admitted assaulting gymnasts.
Chairman Paul Parilla, vice-chairman Jay Binder and treasurer Bitsy Kelley all stepped down on Sunday.
"We support their decisions to resign," said USA Gymnastics president and chief executive Kerry Perry.
"We believe this step will allow us to more effectively move forward in implementing change within our organisation."
Perry said an interim chairperson will be named before a permanent choice is identified.
More than 140 women, including four-time Olympic champion Simone Biles, accused Nasser of abuse.
Nassar is to be sentenced this week and the judge has allowed scores of his victims to address him in court.
He already faces 60 years behind bars after pleading guilty to child pornography charges.
What has USA Gymnastics been accused of?
Aly Raisman, McKayla Maroney and Gabby Douglas - members of the 'Fierce Five' that won team gold in London 2012 - have suggested that USA Gymnastics was to blame for turning a blind eye to Nassar's actions.
Maroney, 22, sued the organisation for what she believes was an attempt to buy her silence with a confidential settlement agreement in 2016. Douglas, 22, said "we were conditioned to stay silent", and last week Raisman, 23, tweeted that USA Gymnastics allowed the abuse to "thrive for decades", adding that it was "100% responsible".
USA Gymnastics told the BBC it severed ties with Nassar in 2015 when claims were brought to its attention. It denies that allegations of abuse were kept quiet in order to preserve the sport's reputation.
The organisation was also asked in 2016 whether its staff knew of Nassar's alleged misconduct during the period he was employed.
It responded: "When USA Gymnastics learned of athlete concerns about Dr Nassar we immediately notified the FBI and relieved Nassar of any further assignments.
"Since then, we have co-operated with the FBI while the investigation has moved forward. Our support has and continues to include refraining from making further public statements or taking any other action that might interfere with the investigation. We are grateful to the athletes for coming forward to share their concerns.
"USA Gymnastics will continue to listen to our athletes and our members in our efforts of creating a culture of empowerment with a relentless focus on athlete safety every single day."
Analysis
Rajini Vaidyanathan, BBC News, Lansing, Michigan
For many of the young women who have been sharing their stories in court, this hearing hasn't just been about making sure Larry Nassar gets the punishment they feel he deserves. It has also been about holding the body which oversees their sport - USA Gymnastics - accountable.
Larry Nassar was the team doctor for years but many women say their reports of abuse fell on deaf ears, and that officials enabled him to continue his actions.
At the start of the hearing officials from USA gymnastics were sometimes seen in the court room, but as it progressed - and the anger grew - they were nowhere to be seen.
The resignation of the executive board will go some way to beginning the clean-up of the institution that so many women here are calling for.
But many believe the culture runs deep, and so for them, change could take a long time. It will also have come too late for them.