Eddie van Hoof: Men's head coach of British Gymnastics sacked after investigation
Last updated on .From the section Gymnastics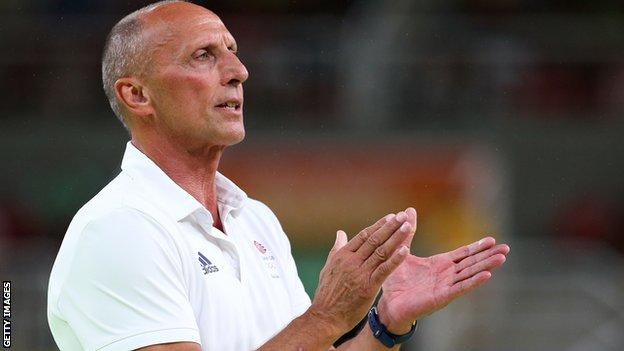 Eddie van Hoof has been sacked as British Gymnastics' men's head coach after an investigation into allegations of misconduct.
The governing body, which suspended Van Hoof on 29 November last year, cited "irreconcilable differences" that had become "untenable". The allegations have not been made public.
"It was best for all sides to bring matters to a close," a statement said.
Van Hoof said he was "shocked and dismayed" by his dismissal.
In a statement, he said British Gymnastics appointed a barrister to conduct the investigation, but only allowed him to see a "short overview" of the subsequent report.
Van Hoof said he had worked for British Gymnastics for more than a decade and "the current concerns have only been raised in the last six months".
He added: "The concerns began to surface last August, shortly after I raised objections to the new world-class performance athlete agreements, which have rightly been a cause of widespread concern for leaving our leading British athletes open to exploitation.
"I stand by my support of our athletes on the issue of contracts, and I stand by my own conduct and professionalism during my time with British Gymnastics.
"The news of my dismissal is unexpected, undeserved and comes as a crushing blow after so many years of unwavering dedication."
Van Hoof was named UK coach of the year in 2016 after British gymnasts won five medals at the Rio Olympics.
British Gymnastics said: "During the process, it became clear that there are irreconcilable differences between Eddie and British Gymnastics regarding the leadership, conduct and culture of elite coaching for our sport. The situation had become untenable.
"We thank Eddie for his contribution to British Gymnastics and wish him every success in the future."