McClenaghan set to train in Dublin after coach made redundant
Last updated on .From the section Gymnastics
Commonwealth Games gold medallist Rhys McClenaghan is to train in Dublin after his coach Luke Carson was made redundant by Rathgael Gym in Bangor.
The 19-year-old gymnast said he had been offered training facilities by Sport Ireland and Gymnastics Ireland.
He will use the facilities to prepare for the Artistic Gymnastics World Cup in Turkey which begins on 6 July.
The gym cited "significant financial challenges" when confirming it had made Carson's position redundant.
McClenaghan has been training at home since the decision to let Carson go was made by Rathgael Gym on 22 June.
"Gymnastics Ireland and Sport Ireland got in contact and have enabled us to go to Dublin to train," McClenaghan said.
"They have been very supportive in providing me with accommodation and world-class facilities which is fantastic.
"I'm glad they have accommodated me in this way but it is not ideal by any means as I will be away from my friends, family and support network.
"I'm unable to train at Rathgael because of insurance reasons since my coach was made redundant."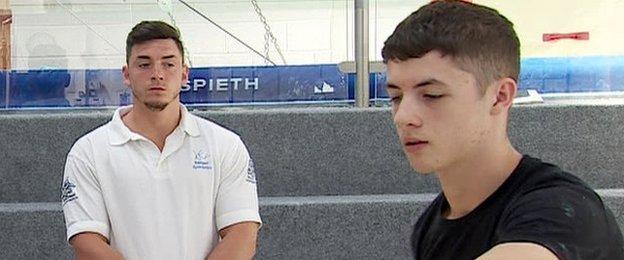 McClenaghan won Northern Ireland's only gold of the Commonwealth Games in Australia on the pommel horse.
He said the club's decision to make Carson redundant had affected him significantly and he was concerned about the impact it will have on young athletes at the club.
"This is definitely a low point for gymnastics in Northern Ireland," he continued.
"I have had messages from parents on social media who moved their children to Rathgael after my gold medal win, who are now saying their kids don't want to do gymnastics any more because I have left.
"That is heart breaking because I feel like I'm inspiring a new generation in gymnastics and their dreams are almost being shattered."
Looking ahead, McClenaghan said he was unsure about his future training arrangements.
"At the minute there is no option for me to train in Northern Ireland as there is no high-performance training facility," he added.
"I have a World Cup coming up in Turkey which is very important to me and that is what I must focus on."