Bryony Page: Olympic trampoline silver medallist wins bronze at World Cup on return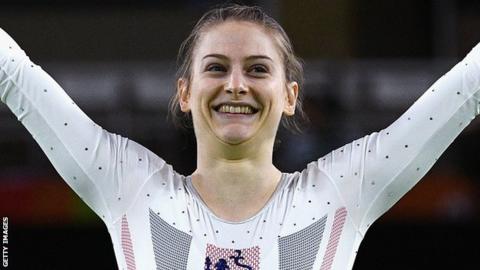 Olympic trampoline silver medallist Bryony Page won World Cup bronze for Britain on her return from long-term injury.
The event in Switzerland on Sunday was her first international competition since winning silver at Rio 2016.
"My rehab from ankle surgeries has been a long and challenging process," said the 27-year-old.
"I have been looking forward to this moment for a long time. I am just so happy it has gone well."
Page scored 55.120 to take bronze with team-mate Kat Driscoll scoring 54.930 to finish fourth.
She added: "It has given me confidence that I can compete at the level I want to again and now I can't wait for the next competition and opportunity to represent my country again."