Team GB's Max Whitlock - 'I feel proud to have helped grow gymnastics'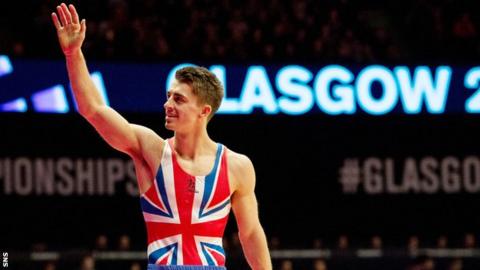 Double Olympic champion Max Whitlock says gymnastics' inclusion in the inaugural European Championships shows how much the sport has grown.
Gymnastics features alongside aquatics, cycling, rowing, triathlon and golf in the competition's maiden edition.
The gymnastics events will be held at Glasgow's Hydro, with Whitlock headlining the British team.
"It's the first time it's been multi-sport, which brings a new atmosphere to a European Championship," he said.
"People are coming to watch swimming and golf, which is very different.
"Its inclusion shows where gymnastics has come from and place it's in now. I feel very lucky to be part of the generation that's helped it get there."
Whitlock, 25, is Britain's most successful gymnast, with five Olympic and 10 Commonwealth Games medals to his name, as well as six podium finishes apiece at European and World Championship level.
The Hemel Hempstead athlete is an ambassador for the Glasgow championships and has fond memories of competing in the city, having won three gold, one silver and a bronze medal at Glasgow 2014, adding a pommel world title and two silvers a year later.
"The audience was incredible and the atmosphere was unbelievable," Whitlock said of the Glasgow events.
"Every time we've gone there, we've produced the results and had the crowd behind us; we're hoping that support is there again.
"If I can retain titles, it would be unbelievable, but my job is go there, do a clean routine and hopefully get results.
"It's going to be very tough as the competition is strong and standards are going to be very, very high.
"If you look at the team over five or six years, there's new guys coming on the scene who are showing they're big talents for the future, which brings a new dynamic to the team but shows how much strength in depth we have."
Among those fresh faces is Scottish teenager Pavel Karnejenko, who will participate in the junior competition.
The Estonian-born athlete, 18, is now based in Nottingham and is eager to compete in Glasgow, where his gymnastics career took off.
Karnejenko says watching champions such as Whitlock excel in his home city four years ago was an inspirational experience.
"I've dreamed about it watching in 2016 as I wasn't in the squad then and that was one of my targets to compete in the 2018 European Championships - now I'm here and selected, I can't be happier," he said.
"I was really inspired by the whole competition, the gymnastics, the Scotland and England squads.
"Back then, I thought 'I've got four years to do this' and it flew in fast.
"It's inspiring when you go to squads together, you see [Whitlock] doing his pommel horse routines, his floor routines, it's just incredible I'm training with him.
"He gives us advice - keep working hard, keep smashing training and all the hard work will pay off."