Gymnastics World Championships: Great Britain women miss out on team final in Doha
By David McDaid
BBC Olympic sports reporter in Doha
Last updated on .From the section Gymnastics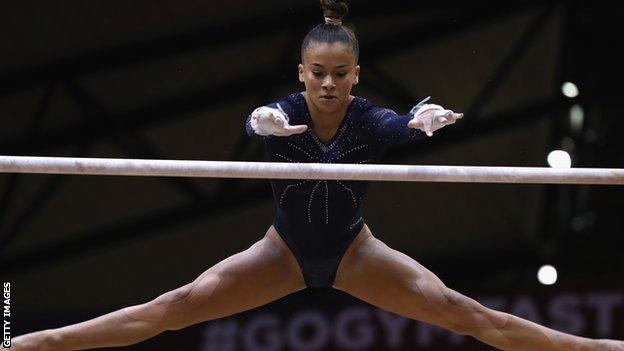 Great Britain women have missed out on the team final at the Gymnastics World Championships in Doha.
Modest scoring, along with some errors, hindered the team as they posted a total of 160.964 - just over a 10th of a mark outside the top eight nations.
"It was a tough competition. It's not been the easiest of years for us with injuries to some of our key players," Becky Downie told BBC Sport in Doha.
"We've given it all we've got and we can't really ask for more than that."
The result means GB will not have representation in a World Championships women's team final for the first time since 2006.
In 2015, at the last World Championships to include a team event, the British women won bronze.
However, two members of that team - Claudia Fragapane and Amy Tinkler - are recovering from injury.
Of the gymnasts in Qatar, Becky and Ellie Downie were making their returns to international competition after 18-month injury lay-offs.
And Georgia-Mae Fenton and Alice Kinsella, both 17, were making their team event debuts, having competed individually last year.
"It's the first time they've come into a team World Championships and that kind of pressure," said Becky Downie.
"We'll go back and look at where we can improve and take it from there.
"Don't write us off. There's still a whole year until qualification [for the 2020 Tokyo Olympics] and, if anything, it's just going to make us work harder."
After a solid start on vault, a fall from Fenton on uneven bars was followed by some wobbles and another fall from Kinsella on beam.
That left the team with points to make up on their final floor exercise.
But a 13.2 from Ellie Downie was the best score from Britain's four routines, leaving them just short of another team final.
"I think some of [the scores on floor] were a bit harsh, but I guess we've had a few wobbles and falls throughout the team," said Ellie Downie.
Three of the team are expected to return next week for individual finals.
Ellie Downie and Simm are well placed to make the top 24 gymnasts for the all around final, after totalling 53.532 and 53.099 respectively.
And Becky Downie's score of 14.4 leaves her in line for a place in the uneven bars final.