World Gymnastics Championships: GB men fifth as China win team title

By David McDaid
BBC Olympic sports reporter in Doha
Last updated on .From the section Gymnastics13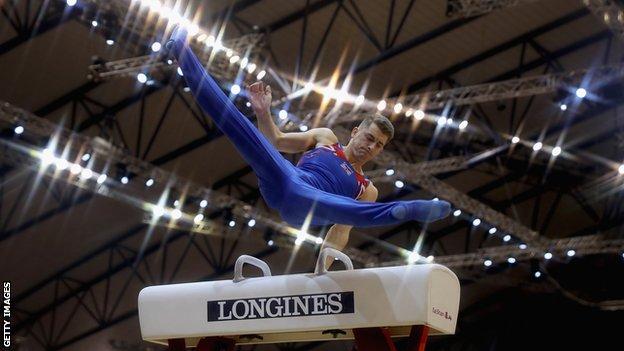 Great Britain came fifth in the men's team final as China regained the title at the World Gymnastics Championships.
GB's Max Whitlock, James Hall, Brinn Bevan, Joe Fraser and Dom Cunningham totalled 248.628, five marks behind Japan, who took bronze behind Russia.
"We're still fifth in the world and against great nations," Whitlock told BBC Sport in Doha, Qatar.
"I said before we came in that it was going to be a tough job but we can take a lot from this and improve a lot."
China have dominated the competition since the mid-1990s, failing to win the title on just two occasions, but they only came third when it was last held, in Glasgow in 2015.
Japan were champions in Glasgow, with Great Britain finishing second on that occasion.
Having qualified for the final fifth best, the British quintet started off well on rings and vault in Doha, scoring better on both apparatus than in qualifying.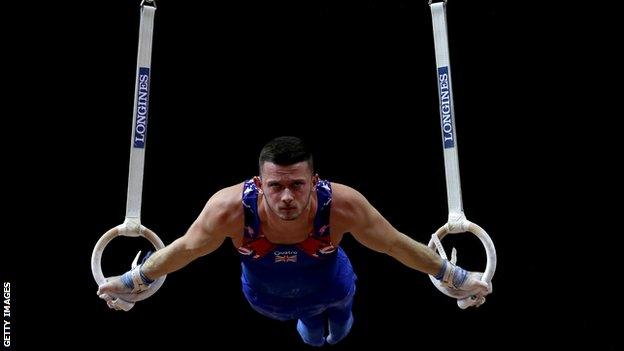 But in the middle two rotations on parallel bars and high bar the team lost any gains made with uncharacteristic falls from Bevan.
Despite better performances overall on floor and pommel, where Whitlock posted a huge score of 15.233, the team were unable to bridge the gap.
"It's great to know you're top five in the world. That was our aim before we came here," said Hall, who took a tumble on pommel.
"We were going to push for a medal and sometimes things don't work out. But overall we're pleased and there's definitely more to come."
'We've a young team - it's great for the future'
At the last world team event in 2015, GB's men excelled as they took the silver medal.
This year three of the team - Cunningham, Hall and Fraser - were making their debuts in a world team final.
"Just because we came second a few years ago doesn't mean that fifth is bad," Whitlock added.
"To come top three is just so hard. We're a small country and we're comparing with the likes of China.
"We've got a young team, which is great for the future, but there's experience in this team too.
"We have got a strong team and we know we can go forward with a lot of positive energy."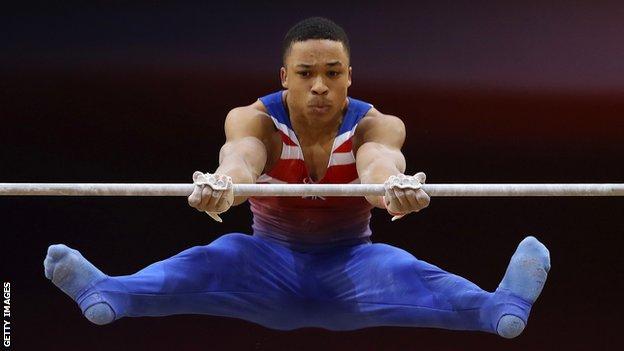 Among several changes to the Olympic qualification process for gymnastics, teams who made the podium in Qatar this year also booked their place at the 2020 Games.
With the GB women unable to make their final and the men missing the podium, both will need to reach next year's world final in order to appear at the Tokyo Olympics.
"Qualifying two years out has never been heard of before so now, for us, it's like usual," Whitlock said.
"We qualified before for the Olympics in a really good position and we can do the same in this one."
GB still have chances to win medals in Doha, with Whitlock the team's main hope as he goes for a third successive pommel world title.
Hall and Bevan will go in the men's individual all-around and Cunningham in the vault final.
For the women, Becky Downie is aiming for gold in the uneven bars, while Ellie Downie and Kelly Simm are in the all-around final.