Simone Biles wins gold in team event at World Gymnastics Championships

By David McDaid
BBC Olympic sports reporter in Doha
Last updated on .From the section Gymnastics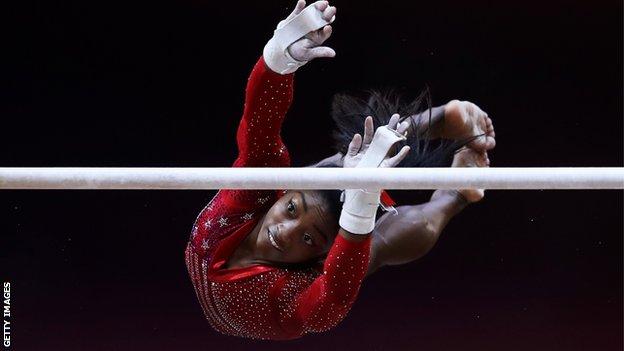 Simone Biles helped the United States to an emphatic women's team victory at the World Gymnastics Championships.
Despite two uncharacteristic errors from the 21-year-old on beam and floor, the US still posted 171.629, well ahead of Russia in second and China in third.
The win gave Biles, who was admitted to hospital with a kidney stone on the eve of the event, her 11th world title.
"It's very special. Myself and the team have trained very hard to be where we are," Biles told BBC Sport.
"I still feel pretty good - I'm in a little bit of pain but it's nothing I can't manage and I haven't had to do anything differently apart from missing one training session."
By making the podium in Doha, US, Russia and China women have also qualified for the 2020 Olympics in Tokyo.
At the halfway point of the final after the vault and uneven bars, the US team of Biles, Morgan Hurd, Riley McCusker, Kara Eaker and Grace McCallum already had a seven-point lead.
In the final two apparatus Biles grabbed the beam to avoid falling off then had a big step out of the floor.
Those were ultimately minor blips in an otherwise impressive team performance by the defending champions.
"It's always disappointing [to make mistakes] but we go back into practice and work on those little things with more finals to come," said Biles.
The last time Biles competed at a comparable level was at the 2016 Olympics - where she won four gold medals and one bronze.
After that, she took a break from the sport and this event in Qatar marks her return to the world stage.
Can Biles make history?
On Thursday, Biles has the chance to become the first female gymnast to win four all around world titles.
"I think it would be really exciting. We'll have to see what happens," said Biles.
"I feel like I'm mentally and physically stronger and when I step out on the mat I know what I'm capable of."
If Biles succeeds she would dethrone her USA team-mate Morgan Hurd, who won the title in Montreal last year.
"I mean, I'm competing with the greatest of all time, so probably not," laughed Hurd when asked about her chances of defending her title against Biles.
"But we never see it as competing against each other - but competing with each other.
"We still want each other to do the absolute best we can possibly do."