Rhys McClenaghan: Commonwealth gold medallist's shoulder operation 'went to plan'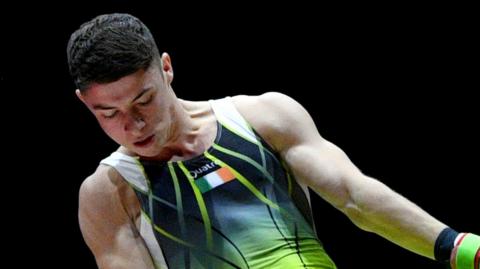 Commonwealth and European pommel horse gold medallist Rhys McClenaghan has said the operation on his shoulder injury "went to plan".
The Northern Irish gymnast missed the recent World Championships in Doha after injuring his shoulder ahead of qualifying for the event.
He was also forced to miss the World Cup in Germany.
"The operation went to plan and I will be back in no time," McClenaghan said on Twitter.
"Another stepping stone in my gymnastics career - not as positive as the other stepping stones but this will be a true test of my character."
The 19-year-old from Newtownards fell twice during qualifying for the World Championships in October and later revealed that a shoulder injury sustained 10 days previously had hampered his preparations.
McClenaghan had a breakthrough 2018, stunning Olympic champion Max Whitlock to win gold at the Commonwealth Games in Australia, adding European gold to his tally in August.
He also won World Cup gold in Turkey, preparing for the event by training in his back garden after coach Luke Carson was made redundant from Rathgael Gym in Bangor.