Gymnastics chiefs accused of stealing parkour
Last updated on .From the section Gymnastics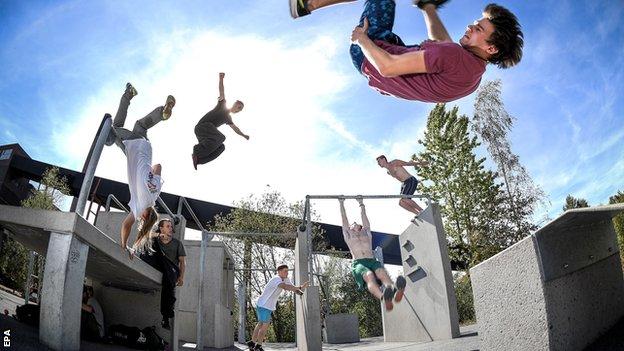 Gymnastics chiefs have been accused of 'stealing' parkour after voting to include it under its umbrella of sports.
Parkour is typically a street sport which involves running, jumping and climbing over obstacles.
But the International Gymnastics Federation (FIG) wants to run parkour and eventually take it to the Olympics.
The move has angered parkour bosses who says gymnastics is trying to "annex" their sport.
They wrote to their individual federations before the FIG vote urging them to abstain or vote against the move.
They have even launched a social media campaign to protect their sport from gymnastics using the hashtag #wearenotgymnastics.
The discipline's international federation - Parkour Earth - says it could now launch a complaint with the European Commission following the FIG vote to take over the sport.
"FIG are attempting to misappropriate, encroach upon and usurp parkour to bolster their existing sport and their place in the Olympic Games," Parkour earth and Parker UK chief executive Eugene Minogue told BBC Sport.
"It's the equivalent of a hostile takeover."
FIG says it has organised world cup test events for the sport and a world cup series, and plans to stage the first ever Parkour World Championships in 2020.
"Parkour is a sport that has been practised under the aegis of our member federations for many years," an FIG statement added.
"There are many so-called international federations and organisations, who claim to be legitimately representing the Parkour community. However, none of them is recognised by the Global Association of International Sports Federations (GAISF) or the International Olympic Committee (IOC).
"We have invited all of these organisations to cooperate with us and we continue to have an open door policy."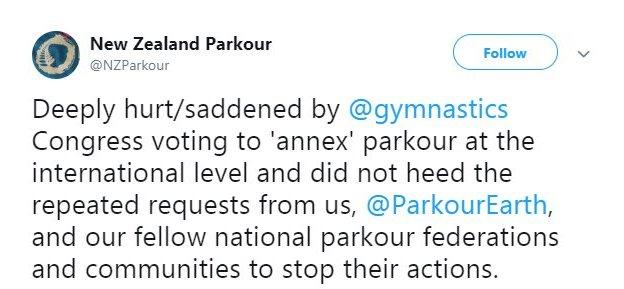 What is parkour?
The United Kingdom was the first country to recognise parkour as a sport and it's sometimes known as freerunning.
According to Parkour UK, the discipline was founded in France in the 1980s by a group of nine men and named l'art du deplacement.
The governing body describes it as a physical discipline in which participants "move freely over and through any terrain using only the abilities of the body".
And, if you've seen the opening scene in Casino Royale where Daniel Craig's James Bond chases Mollaka through a building site, you will know what parkour is about.
Sebastien Foucan, president of Parkour UK, was Mollaka and has also appeared in music videos for Madonna and starred in Channel 4 documentary Jump London.
Parkour UK chief executive Eugene Minogue said the sport is now in a vast majority of primary and secondary schools, colleges and universities, with the UK also boasting 50 Parkour Parks.