Fairbrother inspires Great Britain to win over Finland
By Nick Hope
BBC Sport at the National Sports Centre, Crystal Palace
Last updated on .From the section Handball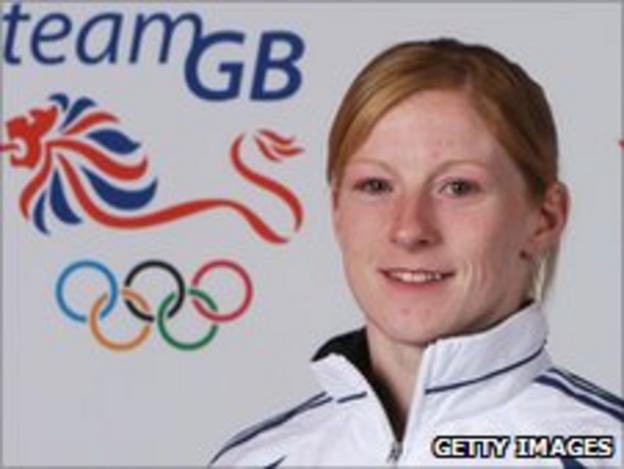 Great Britain's women's handball team kept their dream of reaching the 2012 European Championships alive with a convincing 27-20 victory over Finland.
Kelsi Fairbrother top-scored with six, helping secure a 16-goal aggregate win.
Captain Lynn McCafferty said: "We've done it convincingly and we've played really well as a team. I'm so proud."
They now join World Champions Russia, Montenegro and Poland in group three of the 2012 Euro qualifiers.
The tie was a repeat of the 2010 European Championships pre-group-stage-qualifier, where they also beat Finland in successive matches.
However, they went on to struggle in the group phase, losing all six of their matches against Austria, France and Iceland.
This time around, McCafferty says her team are ready.
"This time we have more experience and, as a team, we've learned new skills and know how to perform better as a group.
"It's a really fantastic time to be involved with the sport because we're getting better all of the time."
The team were also boosted by the attendance of the British Olympic Association's elite performance director, Sir Clive Woodward, who was taking in his first live handball match.
Woodward said: "I thought it was fantastic - the athleticism and physicality was very impressive and it was a great game to watch.
"I'm proud of them [British Handball], because it starts from the top and handball really have the leadership and the organisation right and that filters down into the rest of the team.
"There's not a lot of money in this sport, but to see the girls and their enthusiasm is great and I'm sure they can surprise a few people in London 2012."
British Handball was one of eight sports to suffer as a result of UK Sport's financial shortfall in 2009.
It resulted in their centralised training programme in Denmark closing and players were forced to scour the continent in search of professional club contracts.
But a new funding deal announced at the end of 2010 has seen the creation of a new centralised programme at the National Sports Centre in Crystal Palace.
McCafferty added: "It's definitely helped. There are still only a few of us here and it's only been for the last four weeks, but it's helping us play so much better as a team already.
"We can really feel that a bond is developing between the girls. We're getting good strength and conditioning work and, as more girls come along, it's going to make us even better."
In order to reach the 2012 European Championships in the Netherlands, in December 2012, GB will need to claim a top-two finish in their group of four teams.
McCafferty said: "It was a really important win and puts us through to a group which, in all honesty, is probably even tougher than the one we were in two years ago.
"It's going to be really tough, but we're definitely better prepared than we were then and, no matter how hard it's going to be, it'll all help with our development going forward towards London 2012."