Can Team GB spring a surprise in Olympic handball?
By Andy Burke
BBC Scotland Sport
Last updated on .From the section Handball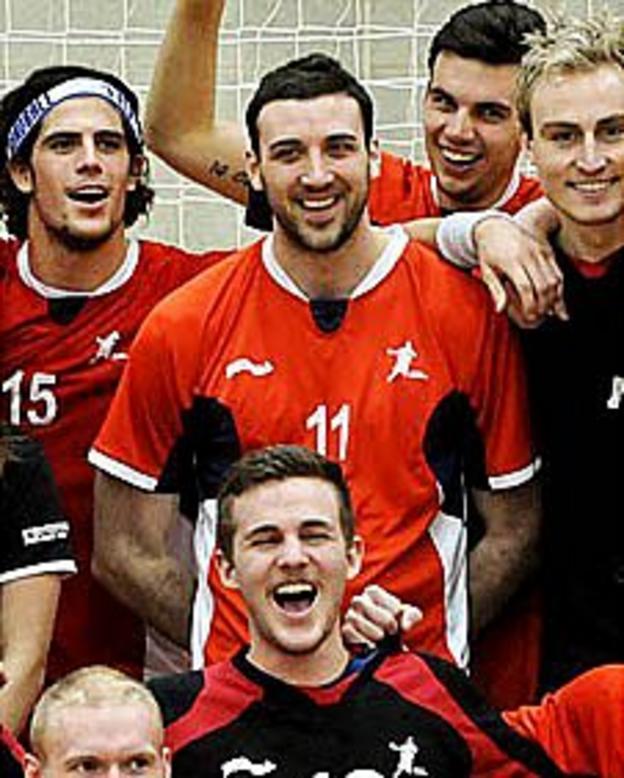 Team GB will not start as one of the favourites for gold in the Olympic handball event, but one Scot who hopes to make the team says they can cause a shock or two along the way.
Scott Frew of Troon, Ayrshire, is in contention to make the final Great Britain squad, and he says that they should not be underestimated.
"What we've got in every British sport is heart and desire," Frew told BBC Radio Scotland's Sport Nation programme.
"I think a lot of people are going to be shocked when the British team rock up and play some of these big nations and get some good results."
Frew is relatively new to handball, having played rugby for his local club Marr in his youth, as well as playing basketball in the United States.
"My dad filled out an application for the Sporting Giants campaign, and to be honest that was the first I'd ever heard of it [handball]," he said.
"They were looking for tall and talented athletes to take up this new sport that had the potential to go to London 2012.
"From then on it was training days. I went down to Nottingham for some inductions to the sport.
"Thankfully I passed all the tests, did quite well and from then on it was just handball on the brain morning, noon and night."
Frew currently plays with the East Kilbride 82 Club, and coach Michael Lavery says he is a joy to have at the club.
"Scott joined the club last season. I was absolutely delighted because he has been a major asset," Lavery said.
"He does some great training, he's helped a lot of the lads that already played for the club and he played really well for us last season in the league."
Bill Baillie, assistant coach of the Team GB handball squad, says Frew's hopes of making the Olympics are all down to the player.
"Scott's chances will all be dependent on Scott and what he does while he's in Scotland. He has to find creative ways to increase his training and exposure to handball," Baillie commented.
"He has a drive to be in the Olympic team."
Frew firmly believes that a strong showing from Team GB at the Olympics will increase knowledge of handball in this country, where the sport has very little exposure.
"I think to be honest not a lot of people know about it, the amount of times I've mentioned handball and people think its dodgeball," Frew said.
"What Team GB have always wanted to do is leave this lasting legacy. It's not just handball that wants to do this, it's all the sports."
You can hear the full interview on Sport Nation at 0900, Saturday 12 August, BBC Radio Scotland 92-95FM & 810MW.