Great Britain handball ready for Olympic Park test
Last updated on .From the section Handball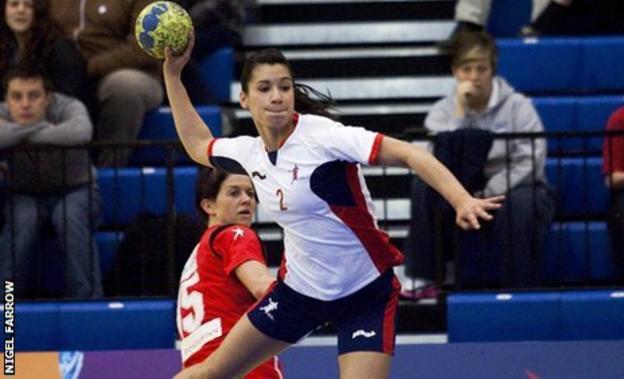 Britain's women will take part in the London 2012 test event at the Handball Arena in the Olympic Park from Wednesday, aware that their development as a team will come under tough scrutiny as they attempt to ensure there is a lasting legacy for the sport.
The GB team is still very young, having only been set up in 2007 precisely so Britain could field a team as the host nation in 2012. Starting with just three players, based in Denmark, talent searches and trials eventually found the 21 players who now make up the squad.
They are now based at Crystal Palace National Sports Centre and coach Jesper Holmris, who has been working with them since their creation, says that has made a huge difference.
"I can see us improving almost from day to day," says the Dane. "I think we are in a good way, but there is still a long way to go."
It has been a turbulent journey for the players, who not only had to move abroad to play competitively, but also had to make personal sacrifices when the sport was one of those to have its funding significantly cut by UK Sport.
Kathryn Fudge came to handball through UK Sport's 'Sporting Giants' recruitment scheme. She moved to Denmark at the age of 18 in order to pursue her dreams of playing an Olympic sport.
"It was like being an eight-year-old again, not knowing how to play or what you are playing," she says. "For me it was a step into the dark. You make sacrifices. It definitely makes you wonder why you are doing it, but then you see the Olympics and what you can achieve."
Her team-mate, Kelsi Fairbrother, says the cut in funds actually brought the team closer together.
"It has been a long five years," she admits. "We have all worked really hard to make sure we got through those tougher years. We know that if we get through this and still go to the Olympics, then we can do anything."
For the sport in general, there is as much emphasis on ensuring a lasting legacy as there is in doing well in 2012.
Paul Goodwin, the chief executive of British Handball, knows one of their biggest challenges is that, despite being hugely popular elsewhere, the sport is not well known in Britain.
"I think it is one of our greatest challenges and one of our greatest opportunities," says Goodwin. "What we haven't achieved yet is getting handball widely known to the British public. If we miss the opportunity that London 2012 gives to us to promote the sport, it will be a long, long time until we get another one."
The London Handball Cup, taking place at the purpose-built Handball Arena in the Olympic Park from Wednesday until Sunday, will be a round-robin tournament also featuring China, Poland, Slovakia, Austria and Angola.
It will be the first opportunity for GB to test themselves against non-European opposition, and the chance to taste the atmosphere at the Olympic venue itself.
The progress they have made in the last couple of years was demonstrated in last month's Euro 2012 qualifier against world champions Russia, which they lost by just an eight-point margin.
With that in mind, there is a hope that Britain's women can reach the semi-finals of the test event, and coach Holmris intends to use it as a dry run for the real thing.
"We are treating this as Olympic preparation," he says. "We are really looking forward to playing in the test event, playing in an Olympic arena and playing some top nations. It's really a milestone for our team."
As for the Games themselves, the aim is for the British squad to reach the quarter-finals. But more importantly, Goodwin wants next summer to act as a springboard for the future of the sport.
"That is exactly how we see it," says Goodwin. "It was never intended that we be a medal winner in 2012.
"The only difficulty we have is we are able to compete in London as a host nation. In future we have to win through the European qualifications of the World Championships and win a place in the Olympics, so it's going to be a tough one, but we are making the right strides."