GB handball coach Dragan Djukic to leave after Olympics
By Nick Hope
BBC Olympic sports reporter
Last updated on .From the section Olympics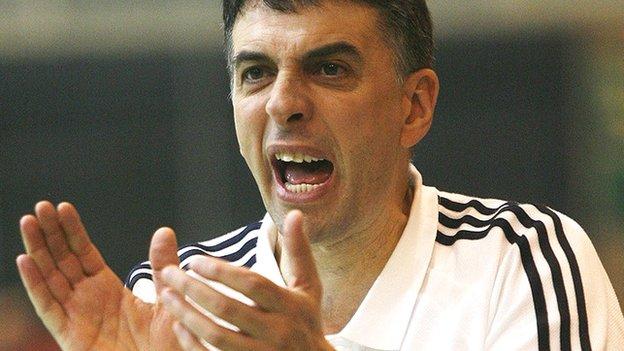 Men's handball head coach Dragan Djukic will leave the Great Britain set-up and join the Israeli national team after London 2012.
"Of course its sad to hear at this stage of our preparations," GB captain Bobby White told BBC Sport.
"But the fact is he needed to resolve his future before the Olympics."
White added: "The BHA [British Handball Association] can't offer him anything until the UK Sport funding [for the Rio 2016 campaign] has been confirmed, so he needed to do what was best for him and his family."
Earlier this month it was announced that the England and Scotland Handball Associations had taken the momentous decision to waive their international playing rights and allow Great Britain to continue competing for places at major internationals after the London Olympics.
However, this does not appear to have been enough to convince Djukic that his future remained in the UK.
The Serbian head coach had previously expressed frustrations with the men's decentralised programme which, caused by a UK Sport funding cut back in 2009, has seen players base themselves with domestic handball clubs across the continent.
"Sixty days per year is not enough for a team to prepare for an Olympics, but when you are disappointed you have to check your budget and realise that is the problem," Djukic told BBC Sport in January.
The British team have recorded only two major competitive international victories since they formed in 2007; however they demonstrated some of their potential at the recent Pinsent Mason's London Handball Cup.
GB lost all of their matches, but pushed Olympic qualifiers Korea close in a narrow 29-25 defeat.
"Our last game gives us hope to believe that, with spectators behind us, maybe we can make some miracle and take a win," said Djukic after learning the 12-strong Olympic draw for London 2012 earlier this month.
"One dream is close to become reality."
In a statement British Handball confirmed that the Serbian's decision would not impact on his role leading into the Games this summer.
It read: "Djukic is still very much committed to guiding the GB men's team through the London Olympics, and helping to leave a lasting legacy for the sport across Great Britain."
The men's team are due to come together for a training camp in Djukic's homeland, Serbia from 20 May-7 June, before heading on to Italy for the Euro 2014 qualifying tournament on 7-11 June.
Iceland-based GB handball player Chris McDermott said: "It's been no secret that Dragan Djukic would be leaving us post-Games and it doesn't change anything for the team.
"We still have lots of work to do and I have complete faith in Dragan being the man to take us where we need to go."