Handball chief calls for more flexible funding

By Matt Slater
BBC sports news reporter
Last updated on .From the section Handball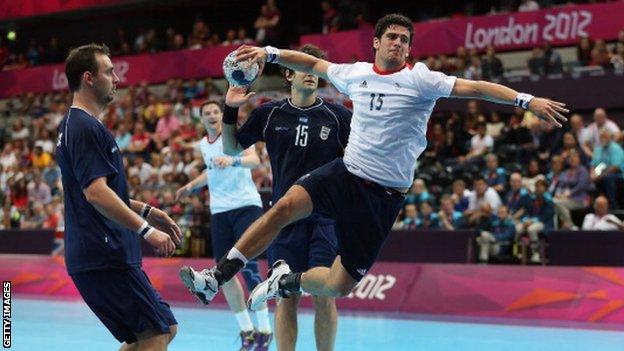 The current model for funding British Olympians makes it impossible for emerging sports to develop, says the chief executive of British Handball.
UK Sport is in charge of allocating lottery and public money to the different Olympic sports, but it has a strict "no compromise" approach.
Only sports that can demonstrate medal-winning potential are backed.
"A more flexible approach to funding is essential if emerging sports are ever to win medals," said Paul Goodwin.
"We now have a talented group of handball players who have competed at an Olympics and would be at the optimum age to compete in Rio (in 2016), but it is hard to see how emerging team sports in Britain can ever medal under the current system."
The fast-moving, indoor game was one of the surprise hits of London 2012, but the British men's and women's teams failed to win any of their 10 group-stage games.
Both GB teams were only at London 2012 because of their host-nation status and they now face the unlikely prospect of trying to qualify for the 2016 Olympics by right, but with no funding.
The size of the task was demonstrated this week when the GB men's team went to Greece for a Euro 2016 qualifying match.
With only six of their London 2012 contingent in the 15-man squad, the British were thrashed 43-14, a bitter blow for the players who had subsidised the trip out of their own pockets.
British Handball, which was only formed in 2006 to take advantage of London 2012's host-nation berth, had not actually wanted to send a team to the Euro 2016 qualification tournament, as it had spent all of the £2.9m it received from UK Sport for 2009-13 on preparing the teams for London.
But the English and Scottish handball associations felt a British team should be sent, particularly as the draw was made shortly after they had petitioned the European governing body to give their places to a unified GB team.
British Handball has been focusing its recent efforts on securing funding for an attempt at qualification to the 2020 Olympics.
This was done with a heavy heart - as it effectively writes off the current generation - but having received UK Sport's feedback to their draft 2013-17 funding proposal in March, Goodwin and his board were forced to reassess their ambitions.
British Handball submitted a new "eight-year plan" in October and must now wait, like every other sport, until 13 December for UK Sport's funding decision.
Goodwin is not optimistic, however, of receiving even the basic package the sport was given for London 2012. Team GB's other "new" sports, such as basketball, volleyball and water polo, are in the same precarious position.
UK Sport distributed approximately £400m to Team GB for its London 2012 preparations, and the UK Government has recently confirmed the same level of funding will be available for Rio 2016.