Handball: GB's Mark Hawkins makes UK Sport funding plea
Last updated on .From the section Handball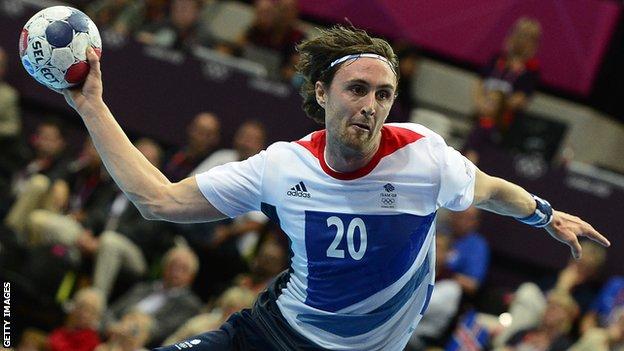 Great Britain handball player Mark Hawkins hopes the sport will not have its funding cut by UK Sport in the next Olympic cycle.
British Handball will find out on Tuesday what sum they will receive in the lead up to Rio de Janeiro 2016.
Hawkins told BBC Sussex: "It is a really big day for the future.
"The whole mantra of London 2012 was 'inspire a generation' and starting a legacy. Handball is definitely a sport which can be part of that legacy."
The 26-year-old from Horsham added: "We are really hoping it is positive news but unfortunately it might not be."
Handball received approximately £5.8 million in funding from UK Sport over the last eight years in the period leading up to Beijing 2008 and London 2012.
The men's and women's teams both finished 12th of 12 teams in their preliminary round groups in London and under UK Sport's "no compromise" philosophy, which channels resources towards athletes and sports with the greatest chance of succeeding on the world stage, British Handball is expected to have their funding cut significantly.
Last month the chief executive of British Handball, Paul Goodwin, told BBC Sport that "a more flexible approach to funding is essential" if emerging sports were to challenge for medals.
"UK Sport have gone for the 'no compromise' method and it has brought in great results," Hawkins continued.
"We [Team GB] were really successful at the Olympics after having full strength teams across all sports.
"It does seem a big shame to start off events like ours and volleyball, get them to a competitive level and then cut it off at the knees."
Despite finishing bottom of their group in London, Hawkins believes the men's side can improve if their funding is sustained.
"London 2012 was supposed to be the starting point for us and we know it can be," the winger said.
"We have had some great results, have got such a young team and have got potential going forward.
"Sports like cycling didn't start up and get the success they did in four or five years. It took them two, three or four Olympic cycles to get there.
"I'm sure we could get to the same way with the same investment and time.
"We hope the people at UK Sport see sense and realise what a great sport it is and what a great chance it is to take off in this country.
"There won't be another chance like it. We are in the best position to take advantage of it."